Since 1845 until its closure in 1924 the Old Melbourne Gaol has held Melbourne's most dangerous criminals.
Today you can visit the Old Melbourne Gaol and find out what life was like for the men and women who lived and died here. Explore all three levels including the execution area and see Ned Kelly's death mask. Rent our new audio guide and explore the original Gaol or join the Charge Sergeant on a tour of the cells when you visit the Watch House. Take a night tour with the
Hangman,
 join our
Ghosts…What Ghosts?
evening tour or spend
A Night in the Watch House.
 In the school holidays visit the former Magistrate's Court and perhaps put yourself in the Judge's seat to mete out justice. Performances of the Ned Kelly themed play 'Such is life' are available on most Saturdays – check the
website
for details. Find out more about the Gaol's fascinating history, how to book the Gaol for a function or bring your school for an education program.
To ensure a safe visitor experience, we've introduced timed entry to maintain a maximum capacity of 30 visitors per session. Tickets must be pre-booked online in advance.
To receive free admission to the gaol, learn more about the benefits and become a National Trust member.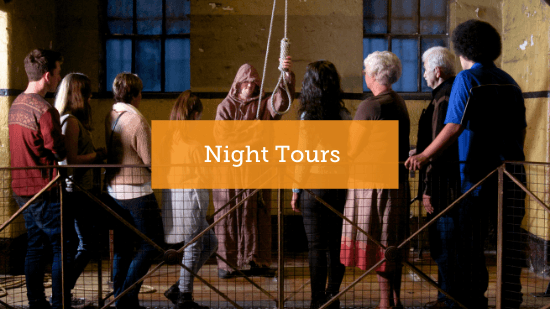 Cluedo Experience
The Old Melbourne Gaol Cluedo Experience is open for a strictly limited time.
Step back in time to solve a mysterious murder, in this world-first event that brings the iconic board game Cluedo to life. The Old Melbourne Gaol Cluedo Experience is an immersive adventure puzzle game for all ages. Dodgy lawyer Lionel Grey was found dead at the Gaol in 1924, but authorities never cracked the case. Now it's up to you! Was it Warder White, in Cell 13, with the lead pipe?
Search the Gaol's darkest corners for clues, studying alibis of colourful crims, examining physical evidence, and scanning weapons for DNA. Using your smarts and the help of modern technology, can you discover WHO killed Grey, WHERE he was killed, and with WHAT weapon? The murder may be fictional, but the fun is very real!
The Cluedo detective booklet is an additional $5 to your general admission ticket.
Your ticket will gain you self-guided entry to the Old Melbourne Gaol and the City Watch House, as well as access to download the new audio guide app.
Night Tours
Ghosts… What Ghosts? Night Tour: select nights at 6.30pm
Hangman's Night Tour: select nights at 8.00pm