Melbourne's oldest surviving building, the original home of Victoria's first Lieutenant-Governor, Charles Joseph La Trobe
La Trobe's Cottage was the home of Charles Joseph La Trobe, Victoria's first governor, and his wife Sophie and their children from 1839 to 1854. Originally erected on his Jolimont estate, the single-story dwelling is constructed of timber, replicating the original prefabricated structure brought by him from London. The locally built dining room (1839), the first of many additions made during La Trobe's tenure, is the oldest surviving Melbourne building. The modest yet elegant family home contains many pieces of La Trobe's furniture and other historic artefacts. Learn more about La Trobe's beloved garden and cottage here.
Join us at our next open day to learn about life in early Melbourne. Obtain a glimpse into La Trobe family life and enjoy the romantic garden re-created using plants available in the 1840s and 1850s.
In 2014, the cottage garden was awarded a Victorian Community History Award for Historical Interpretation.
---
Conserving La Trobe family portraits
The painting of his grandfather Benjamin La Trobe (1728-86) is by John Astley (1724-87). Benjamin came to England from Ireland as a new convert in the Moravian church. He was a scholar and teacher, and rose to be head of the fledgling British province by his extraordinary talent as a persuasive preacher, peacemaker and administrator. He had connections with people at the centre of the evangelical circle opposing slavery.
The large painting of La Trobe's father, Christian Ignatius La Trobe (1758-1836) is by Thomas Barber (1768-1843). Christian Ignatius La Trobe followed his father into the Moravian church. He was also a musician and composer, a friend of Haydn, and was significantly influential in disseminating the European classical style of church music in Britain. He became secretary of the international Moravian church in Britain and was a promoter of its missionary activity. He was a supporter of William Wilberforce's anti-slavery movement, but was unable to take an active part due to the church's policy of not meddling in politics.
The two paintings were donated to the Trust by La Trobe's grandson, Captain Charles La Trobe.
Both paintings are of excellent quality and in urgent need of restoration. The original frames in particular need extensive restoration work. This conservation work will greatly enhance their appearance and will ensure that they are looked after into the future.
The fundraising target for the conservation works to the La Trobe portraits has been reached.  The conservation work is now proceeding. Thank you to our wonderful donors for their support.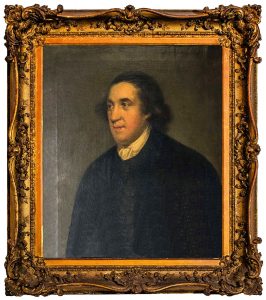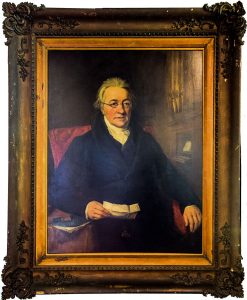 SAVE THE DATE
La Trobe Family Portraits: Special Viewing
Sunday, 24 September 2023.
3.30 – 5.00pm
Special viewing of important portraits of Charles Joseph's father Christian Ignatius La Trobe and his grandfather Rev. Benjamin La Trobe will be on display after extensive conservation.
Both men had connections with leaders in the British anti-slavery movement. Their portraits were painted by renown artists Thomas Barber and John Astley and were donated to National Trust Victoria by two of La Trobe's grandchildren in the 1960s. Donations from members of the C J La Trobe Society enabled the necessary conservation work to be carried out.
Light refreshments will be served.
Bookings can be made to the C J La Trobe Society, www.latrobesociety.org.au/la-trobe-family-portraits
Enquiries to secretary@latrobesociety.org.au