9 Apr 2014
Stimulate your fashion senses and wear your heart on your sleeve by getting an exclusive look into significant fashion pieces of wedding couture from the 18th to 21st century, at the National Trust Love, Desire & Riches exhibition at Rippon Lea House and Gardens from 1 July to 30 September 2014.
From the flair of Armani to the visionary heroines of Jane Austen, the exhibition will explore the intersection between film, historic fashion and the social narrative of weddings, all within the majestic grounds of Rippon Lea House & Gardens, a popular venue for wedding receptions and ceremonies.
"Romance is never without drama and the Love, Desire & Riches collection will reveal just that, with all three themes embodied through a range of inspiring gowns worn on the silver screen," said National Trust Victoria Cultural Collections Curator, Elizabeth Anya-Petrivna.
Fashion enthusiasts, collectors and hopeless romantics can explore the exquisite, wide-ranging collection of wedding gowns drawn from timeless moments in literature and film, renowned designer pieces, alongside real life love stories of the women and men of Melbourne.
"The collection includes Valentino's magnificent gown worn by Princess Marie Chantal of Greece, and an Armani creation worn by Charlene, Princess of Monaco. Australian designers will also be featured, including Alex Perry's wedding dress design for Kyly Clarke, wife of cricketer Michael Clarke," said Elizabeth.
In addition to the costume display, the exhibition will also provide an evocative atmosphere with delectable treats and flower displays embodying a true wedding ambiance.
The exhibition runs daily from Tuesday 1 July to Tuesday 30 September 2014.
To book exhibition tickets call the National Trust Bookings Office on 03 9656 9804 or click here to book online.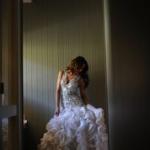 Above: Dress worn by Kate Winslet in Sense and Sensibility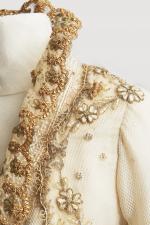 Dress worn by Kyly Clarke for her wedding day