24 Oct 2013
Due to the amazing success of the Miss Fisher's Murder Mysteries Costume Exhibition, with almost 30,000 visitors in the first six weeks, the National Trust and Every Cloud Productions have extended the exhibition at Rippon Lea House and Gardens until Sunday 1 December so visitors can enjoy Miss Fisher's mysterious ways for longer.
The exhibition showcases a range of 1920s costumes from ABC1's popular drama series Miss Fisher's Murder Mysteries, based on Kerry Greenwood's series of novels and currently screening on Friday nights 8.30pm. The iconic Rippon Lea House & Gardens features in the series as the home of regular character Aunt Prudence.
The exhibition includes insights from talented costume designer, Marion Boyce, as well as the producers of the show Fiona Eagger and Deb Cox, and when viewing the exhibition visitors can participate in an interactive murder mystery adventure with clues hidden around the mansion.
The Miss Fisher's Murder Mysteries Costume Exhibition is open daily until Sunday 1 December from 10am – 4.30pm (Last entry is at 4pm).
Tickets:
Adult $15
Concession $12
Child $9
Family $35 (2 adults and 2 children)
Discounts available for National Trust members
For more information or to book exhibition or public programs tickets call (03) 9656 9804 or visit ripponleaestate.com.au
Costumes, image and footage courtesy of Every Cloud Productions.
The Australian Broadcasting Corporation and Screen Australia presents in association with Film Victoria and Fulcrum Media Finance, an Every Cloud Production Miss Fisher's Murder Mysteries.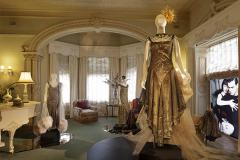 Photo by John Gollings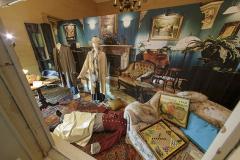 Photo by John Gollings