3 Apr 2013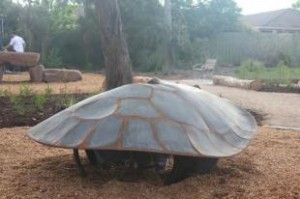 Art and nature combine through giant long neck turtle
Nature and playing go hand in hand, and now children can experience the mysteries of the sea on land through a giant long neck turtle sculpture recently installed by the Agency of Sculpture at Rippon Lea House and Gardens.
The huge long-neck turtle sculpture, which measures almost four metres long and weighs over 350 kilograms, allows children to get up close and personal with nature as they explore the lifelike tortoise shell.
Children of all ages will have fun clambering in, around and through the giant structure, as well as enjoying a vibrant and practical play experience in the picturesque Rippon Lea gardens.
Benjamin Gilbert from the Agency of Sculpture, said children will benefit from experiencing nature in an imaginative and productive way.
"A natural form such as the large long-neck turtle creates a specific site for imaginative play," Benjamin said.
"Humans have an innate attraction to the event of life, and we must provide opportunities for youth to experience intimacy with the natural world."
The large long-neck turtle sculpture will be on display in the Rippon Lea House and Gardens until 31 March 2013.