Return to Labassa
A reunion of more than 135 former residents, owners and their descendants in 2013 has led to an ongoing research project into Labassa's remarkable social history during the mid 20th Century.
Labassa's illustrious social history is familiar to many. From 1862-1920 it was the residence of a succession of enterprising and prosperous families. Following those boom years it was divided into apartments and became home to successive waves of residents of more modest means but not necessarily modest ambitions.
Among Labassa's new wave of aspirants was Louise Lovely – Australia's first silent film actress to find acclaim in Hollywood. In the 1930s and 1940s the mansion was the setting for innumerable extravagant parties and more demure meetings such as the Emilie Robins Auxiliary for the Queen Victoria Hospital. During the Second World War Labassa hosted fundraisers in aid of the Red Cross Comfort Fund. With the post-war immigration boom, Labassa became a significant residence for some of the European families who were displaced from their homelands.
Labassa Lives Journal – the ongoing story for you to read
Follow the different stories and course of latest research through the Labassa Lives journals written and compiled by historian Vicki Shuttleworth.
These are presented below for download.
Contact us with your story
Do you have a special connection to Labassa or stories about its social history?
Please email Vicki Shuttleworth on vickijshuttleworth@yahoo.com.au
Latest editions of the Labassa Lives Journal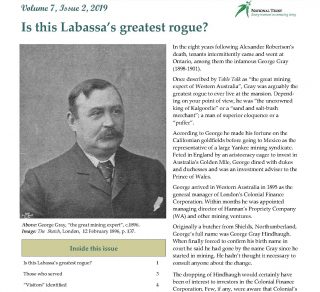 The infamous George Gray, resident of Labassa (1898-1901), lived a life of deception in the mining and horse racing industries in Western Australia and later Victoria. This edition also explores the world of servants who worked for Labassa's households and the children who grew up in Labassa's communal groups in the seventies.
More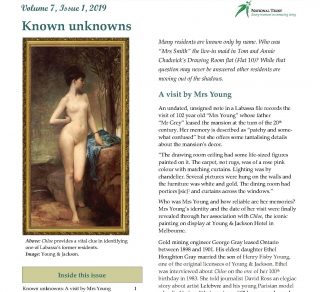 This volume explores Labassa's connections to the Young and Jackson Hotel in Melbourne, Norman Aitken who worked in the gardens, solicitor David Herald and a tribute to Neil Robertson great grandson of Alexander Robertson.
More
Back Issues of Labassa Lives for download
Labassa was a magnet for young art students and creative life-style people.
We could romanticise our existence, living in such a beautiful historic and spacious mansion. I always thought it a great privilege to have lived there.