3 Oct 2013
The following article was written by Martin Green, Learning & Interpretations Manager, National Trust of Australia (Vic) and appeared in the September – October 2013 issue of Museum Australia's INSITE magazine.
Miss Fisher's Murder Mysteries is an action-packed whodunit television series broadcast on ABC1, featuring Essie Davies as the extraordinary female detective Miss Phryne Fisher, a fearless 1920s heroine who manages to solve remarkably complex murders. When the National Trust partnered with Every Cloud Productions to produce an exhibition of the series based on costumes designed by Marion Boyce we saw a marvellous opportunity to use Rippon Lea House and Gardens, a period home and house museum, as an innovative exhibition space.Rippon Lea mansion in Elsternwick with its 1920s ballroom and stately Victorian rooms had featured in several episodes in the series.
The challenge for us as exhibitors was how to make an exhibition from a television program. Transforming television ideas into a three dimensional immersive display space required lateral thinking. We also had to meet the expectations of Miss Fisher's fans and viewers, accustomed as a television audience to action packed spectacle and murderous adventures.
Miss Fisher's costumes are star attractions in their own right. Each costume is a product of painstaking research into the twenties period by costume designer Marion Boyce and contain elaborate detail and are meticulously crafted pieces. Marion Boyce felt "Phryne Fisher's a really interesting character because she has a very different background. She wasn't your typical Australian of the time. She was an artist's model in the bohemian Parisian years. So her world travel and influences really gave us a lot of lee way in terms of cloth and embellishments."
Rippon Lea mansion has an intriguing layout with some rooms, like the drawing room, designed for lavish entertainment as well as personal intimate spaces like bedrooms and bathrooms. Each room has its own character and purpose. Curator Elizabeth Anya-Petrivna and Marion Boyce presented costumes as individual installations that took advantage of each room's furnishings and style.The drawing room is a parade of evening wear. The dining room table has become a sea of hats. The upstairs bedroom has become a film set revealing a behind-the-scenes view of the Miss Fisher television production process. The dressing room has become Marion Boyce's studio work room revealing the research, books, fabrics, threads, sequins and drawings that go into the production of each costume.
One issue we faced was how to prevent visitors from handling the costumes. Curator Elizabeth Anya-Petrivna came up with an innovative solution. By employing mirrored perspex shapes in diamond patterns around the base of the costume stands visitors cannot stand too close but feel no sense of a barrier between them and the costumes.
No Miss Fisher episode is complete without a murder mystery, so visitors can discover the not-so-grisly murder scene then find cryptic clues to the murderer's identity hidden as puzzles in the mansion's arrangement of its housewares, furnishings, bookcases and mirrors and even the piano. We knew every visitor looking at the costumes would also secretly want to participate and try them on. So we provided visitors with fifteen different costumes made by our embroidery volunteer Eva Fabian and her team based on Miss Fisher's 1920s cocoon coat to wear as they wander through the mansion.
In order to bring the costumes to life and to show them as they were used in the series, we developed a portable exhibition guide using an Android tablet. Visitors can use the tablet to navigate through the mansion, view details about each of the costumes, watch videos and read script excerpts from series producer, Deb Cox.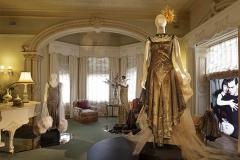 The drawing room at Rippon Lea with dresses meticulously researched and made by costume designer Marion Boyce. The mirrored perspex shapes on the ground were specially made to discourage visitors from walking to close to the displays. Photo by John Gollings.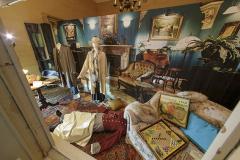 Visitors are invited to solve a murder mystery, after discovering the 'body' lying in the Murder Room among some props. Photo by John Gollings