Heritage Venues for Hire
If you are planning a special event that calls for a timeless location, the National Trust has heritage venues available for hire in New South Wales.
A selection of our historic venues are available for hire for weddings, gallery exhibitions, private parties, memorial services, corporate events and meetings, garden events, naming ceremonies, and for film and photographic locations. Please refer to the table below to see which venues have the capacity for specific types of events given COVID-19 restrictions.
We know that COVID-19 restrictions mean that special events cannot proceed as they otherwise would have, but with a little reimagining, you can still have a wonderful time. It will need to be an occasion with all guests seated according to the four square metre rule, there can't be any dancing, mingling or singing but there will still be smiles and celebration.
Our venue hire arrangements have been revised in light of the COVID-19 pandemic and we adhere to the following principles in opening our venues for hire:
Providing safe environments – including observing physical distancing measures, limiting the number of people within our spaces, helping to prevent contact, maintaining personal health and hygiene measures, and increasing the cleaning and monitoring of our facilities
Adhering to state and federal government instructions and guidelines, adapting our operations to maintain consistency with restrictions and advice changes
Providing information to support Hirers, guests, staff and volunteers to keep themselves and others safe by following health advice
National Trust Venue Capacities
For National Trust (NSW) properties that have reopened, the following maximum capacities apply: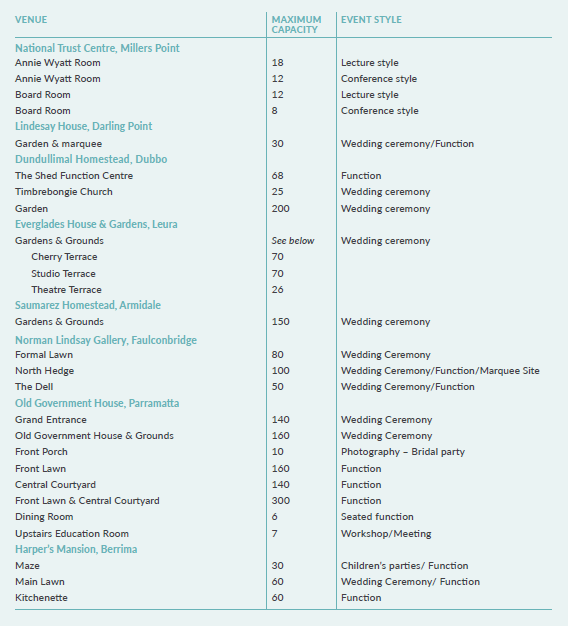 Only the venues listed above are currently in use for events at National Trust NSW properties. All other venues remain closed to bookings at this time.
Further Information
We will continue to adapt and provide updates as Government and Health advice changes and will ensure we continue to provide a quality experience for our visitors and guests. Please note COVID-19 Safety Plans may need to be updated in the future as restrictions and advice changes.