The beauty, peace and quiet of Saumarez will surround you on your special occasion.
The beauty, peace and quiet of Saumarez Homestead will surround you on your special occasion.
Synonymous with grace and style, the grounds, farms and Saumarez Function Centre can accommodate groups from 60 to 200 in a truly Australian rural setting.
Country Wedding = Saumarez Homestead
Saumarez Homestead is a unique country setting for wedding ceremonies, wedding receptions and wedding photos.
With glorious formal gardens surrounding the main homestead there are several beautiful options for outdoor wedding ceremonies and the Saumarez Centre,  Jackson Centre or Stables provide great wet weather indoor alternatives.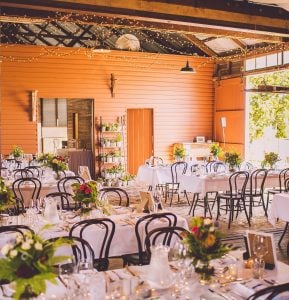 The Jackson Centre – previously the heavy horse stables, carriage area and workshop – is the most popular indoor venue for wedding receptions with the more formal Saumarez Centre and the intimate Stables providing other options. There are also several powered sites for Marquees adjacent to the main homestead, Saumarez Centre and in the Farm Area.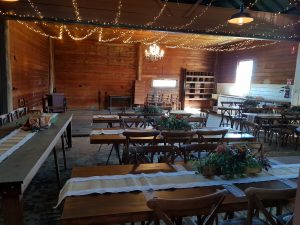 Flexibility is the key to a great wedding ceremony and or reception venue. Saumarez Homestead has many options and the staff are only too willing to help couples explore and understand the many options.
With over 10 hectares of grounds including  the formal gardens, Mary's garden, the Heritage Rose Garden and the historic homestead and farm area with its collection of buildings of differing architecture as well as many rural vistas, Saumarez Homestead provides a dream canvas for wedding photographers to do their magic to capture every highlight of what is a very special day.
There are a few dates still available for weddings at Saumarez Homestead in the Spring/Summer of 2019, but they are filling  fast.
In 2020, weddings at Saumarez Homestead will be even better than before.
The Jackson Centre will also get an upgrade in the winter of 2019 including its own kitchen and bar as well as new toilet facilities next door near the old brick Garage.
During the winter of 2020, we will be refurbishing the Saumarez Centre and doubling the size of the commercial kitchen More exciting will be the developments in the Farm Area where we will be creating onsite luxurious cabin accommodation for up to 40 guests plus a honeymoon suite hidden in among the elm trees.
There will also be a separate private function room near the accommodation for activities such as indoor/outdoor barbecues and rehearsal dinners, hair and make-up and recovery brunches. These cabins will be available from 1 September 2020 and possibly some cabins may be available in Autumn 2020
Upgraded facilities will bring on some price increases but all bookings confirmed for 2019/2020 at current prices will be honoured.
All in all Saumarez Homestead is already a very popular wedding venue and these improvements will make it a sought after country wedding experience. Book now.
Venue Options
Venue Option
Fee
Gardens/Grounds
$500
Jackson Centre
$650

Gardens/ Grounds & Jackson Centre combined

$1000

Gardens/ Grounds & whole visitor function room combined

$1100
Whole visitor centre function room
$700
Half visitor centre function room
$350
Kitchen Area
$250
Stables
$300
Photography
$100
Photography without venue hire
$250
Marquee Sitting Fee
$300
Property/ House tour

(Number of guests: ______)

$8 per head
After 5pm attendance of an authorized staff/security person  (______hours)
$50 per hour
Film/Media Location Hire – First day
$1250
Film/Media Location Hire – subsequent days per day (________ days)
$1000
Commercial Hire of Grounds
From $1250 per day
*National Trust members receive 10% discount on bookings **After 5:00 pm, a surcharge of $50/hr is required for the attendance of an authorised staff/security person on the grounds.
---
Downloads