When elegance is an essential for creating a sense of occasion, Lindesay at Darling Point in Sydney is the perfect location. Make memories to last a lifetime at this elegant 1830s mansion with sweeping views across Sydney Harbour from a private garden and sandstone courtyard. Interior spaces include the elegant dining room and atmospheric cellar. This is the perfect setting for wedding and naming ceremonies, private parties, garden parties, corporate meetings and luncheons. Lindesay is also a favourite location for photographers, producers and film makers.
You will arrive in splendour around a circular drive, overlooked by the house. Step onto the sheltered sandstone courtyard that gives way to a private garden overlooking Sydney Harbour. Sneak into the parterre garden or glassed gazebo for a moment of reverie and reflection. Lindesay was the first house to be built at Darling Point by the Colonial Treasurer Campbell Drummond Riddell in 1834 and named after the Acting Governor, Lieutenant Patrick Lindesay, who reserved the land for Riddell – his friend and fellow Scotsman. The architecture of Lindesay is one of the first domestic examples of Gothic Revival in Australia.
Hire Lindesay for your Event
You can hire the gardens of Lindesay for your event but please note that currently, COVID-19 restrictions and event type capacities apply and we ask you to please read our
Special Terms and Conditions
before booking.
Lindesay is a spectacular venue for:
Weddings and commitment ceremonies.
Private parties including anniversaries, 21st birthdays
Bar mitzvah and bar mitzvah celebrations,
Naming ceremonies and baptism parties.
Memorials.
Private dinner parties.
Garden parties.
Private events for groups, including playgroups, mother's groups, clubs and community groups.
Photography location shoots.
Film and TV production locations.
To conserve Lindesay's heritage, only 12 large functions are permitted annually. Five per cent of the hiring fee at Lindesay contributes to the National Trust's guardianship and conservation of the house and garden. Please note that specific venue hire requirements currently apply due to COVID-19 restrictions. Please contact Lindesay by phone (02) 9363 2401 or email
lindesay@nationaltrust.com.au
Event types, fees and inclusions with venue hire at Lindesay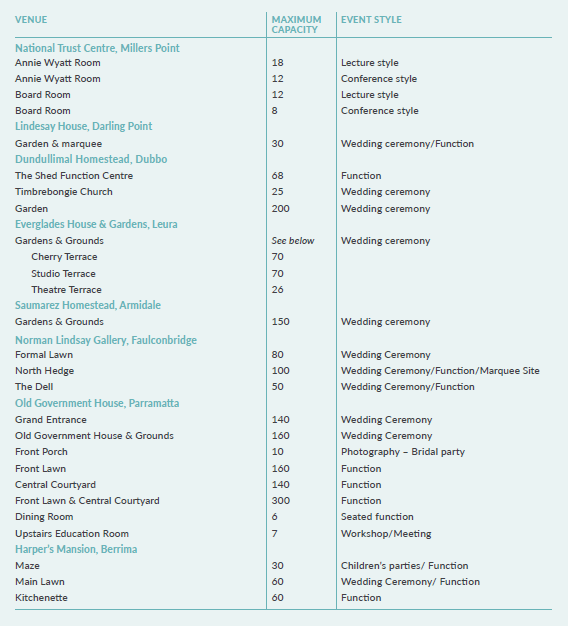 Please note capacity is based on current NSW government COVID-19 guidelines and may be subject to change.