3 May 2021
Our heritage places have something for everyone – whether it's just the two of you or the whole family. From picture-perfect views, to modern art, to spine-tingling tales of a time gone by, we have plenty to discover.
Here are some of our top picks to make it a memorable Mother's Day.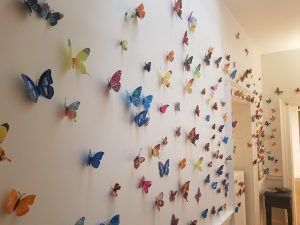 Where? Parramatta
Overlooking the City of Parramatta, Old Government House is the oldest surviving public building in Australia and one of the 11 Australian Convict Sites listed on the UNESCO World Heritage Register.
This elegant Georgian house is home to the National Trust's premier colonial furniture collection, early textiles and significant homewares from the time of the Governors.
You'll be able to see the 'Enquiring Minds' exhibition which delves into 18th and 19th century voyages of discovery. Discover what it was like to live at a time when new theories of science and evolution were being developed, and exotic Australian specimens created a sensation in Europe.
See some of the artworks by one of our early groundbreaking female artists, Louisa Atkinson. Born in 1834, Louisa was naturally talented in botany, illustration and languages. She became skilled at specimen collecting and taxidermy from the age of sixteen, and was publishing articles soon after.
Don't miss the interactive butterfly installation towards the end of the exhibition, the young at heart will have the opportunity to add a paper butterfly to Old Government House's very own 'specimen collection' (pictured).
Finish the day by exploring the beautiful 200 acres of Parramatta Park surrounding Old Government House.
Old Government House is open Tuesdays to Sundays, 10am – 4pm. Learn more and book tickets.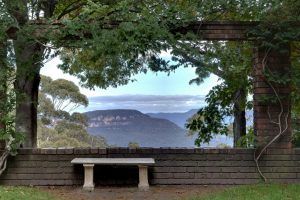 Where? The Blue Mountains
Surrounding the grace and elegance of this Art Deco gem are designer gardens and mystically rambling glades. Take a stroll along winding paths, enjoy the tranquil reflection pool and experience breathtaking views overlooking the Blue Mountains at this picturesque property.
Cool crisp days in May are often the best time to see the gardens at Everglades with fewer people about. You may even be lucky enough to find a secluded spot to enjoy a picnic with a postcard-perfect view. Autumn colours persist and falling leaves have started to blanket the gardens. Bring the whole family, the kids will love this time of year when they can run through the gardens and wade through piles of leaves.
If your mum loves art, she'll love the latest exhibition at the Everglades Gallery. The Inner Eye is a reflection on 2020. The artists, Natasha Daniloff and Ann Warnes, saw the year as a time to live in their creative imaginations and celebrate the beautiful – whether real or imagined.
Top the day off by treating mum to a sweet treat and a cuppa in the cosy Tea Rooms (open weekends only).
Everglades House & Gardens is open Thursdays to Mondays, 10am – 4pm. Learn more and book tickets.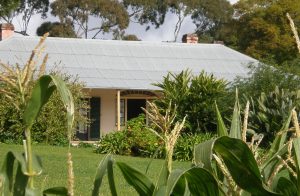 Where? Parramatta
Experiment Farm Cottage is another special historical place, located not far from Old Government House. Built in 1835, the Indian-style bungalow is one of Australia's oldest standing properties.
Take a stroll around Experiment Farm Cottage and immerse yourself in bygone days. A new exhibition explores the perilous and fascinating history of health in the early colony. Inside the residence built by Surgeon John Harris, learn how those venturing to Australia in the 1800s were able to access medical attention and supplies – or not, how women dealt with childbirth in the bush, and how quack doctors were able to concoct and distribute 'miracle elixirs.'
There's so much to discover in this eye-opening exhibition. One of the unique objects on display is a 'Faradation' device – one of its uses in the 19th century was as a 'cure' for hysteria. Hysteria was seen as a uniquely female illness and was used for any woman deemed to be showing excessive emotions.
Experiment Farm Cottage will next be on Saturday 8 and Sunday 9 May, 10.30am – 3.30pm. Learn more and book tickets.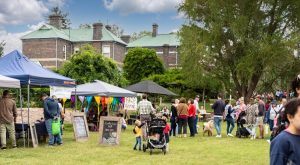 Where? Armidale
If you live in or near Armidale, you can't miss 'Harvest to Heritage: Armidale Farmers' Market at Saumarez Homestead'. The ever-popular open-air market offers an array of handcrafted wares, mouth-watering fresh produce and some specialty treats, all sourced from the New England and Coffs Harbour region. It's a fun day out and a great opportunity to meet the growers, support local businesses and stock up on plenty of goodies.
After you've finished exploring the stalls, had a bite to eat and soaked up the local community atmosphere, make your way to the many gardens of Saumarez Homestead. Saumarez is a haven for mums who love flowers and gardening. The expansive grounds includes the Heritage Rose Garden – home to over 600 roses – and Mary's Garden with its winding stone paths, a running stream and an ornamental grapevine.
Entry to the grounds is free for Harvest to Heritage, but for a small fee, you can discover the history behind the property when you buy a ticket to explore the ground floor of the fully-furnished homestead that provides a rare glimpse of 19th century pastoral life in New England.
Saumarez Homestead is next open on Sunday 9 May, 9am to 2pm.
More heritage places open on Mother's Day
There's so many options for things to see and do to make it a special day, including:
Experience the 'Tree of Life' exhibition at S.H. Ervin Gallery in Sydney.
See the 'Between Friends' exhibition at Norman Lindsay Gallery in the Blue Mountains.
Explore the home of the first Australian-born explorer, Hamilton Hume, at Cooma Cottage in Yass.
Wander through the gardens at Riversdale in Goulburn.
Step back in time at Miss Porter's House in Newcastle.
Visit the Bathurst gem that is Miss Traill's House.
The perfect Mother's Day gift
Not yet purchased a gift? Treat your mum to a National Trust gift membership. As well as free admission to some of Australia's finest homes, galleries and gardens, purchase before 30 June 2021 and the membership will be in a gift box with a pack of our special 75th Anniversary Tea.
Best of all, by purchasing a gift membership you'll be helping to protect the unique heritage of New South Wales for future generations to enjoy.
Buy a National Trust gift membership for Mother's Day.