We have paused our School Programs at Saumarez Homestead until further notice. We're making minor adjustments and improvements, and will be able to share our passion for Australia's unique heritage with students again soon.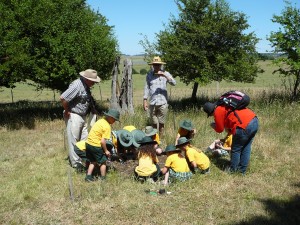 Stage 1: Years 1-2 (HT1-1, HT1-2, HT1-3, HT1-4)
Stage 2: Years 3 and 4 (HT2-2, HT2-4, HT2-5
Step back in time to the world of a pastoral property dating from the 1830s.
The historic farm buildings of Saumarez Homestead include a slaughterhouse, stables, poultry yards and milking sheds. The late Victorian and Edwardian house is a fully-furnished grand house with English-style gardens. Together, the whole property reflects the different worlds of work and leisure of the owner's family members and the blacksmiths, stockmen, cooks and servants who worked there.
From the Paddock to the Plate uses practical learning experiences, such as artefact games and treasure hunts, to explore the archaeology, history and working life of the property, and traces food production and preparation from the farm to the dining table.
Students can
IDENTIFY the role of pastoral settlement in the development of Australian identity and heritage.
DESCRIBE ways of life associated with colonial expansion.
EXPLORE the relationship between people and environments.
DEVELOP an understanding and empathy for peoples of the past.
Stage 1: Years 1 and 2 The Past in the Present and Present and Past Family Life
A student:
HT1-1 communicates an understanding of change and continuity in family life using appropriate historical terms
HT1-2 identifies and describes significant people, events, places and sites in the local community over time
HT1-3 describes the effects of changing technology on people's lives over time
HT1-4 demonstrates skills of historical inquiry and communication
Key inquiry questions:
What aspects of the past can you see today?
What do they tell us?
What remains of the past are important to the local community? Why?
How have changes in technology shaped our daily life?
How has family life changed or remained the same over time?
How can we show that the present is different from or similar to the past?
How do we describe the sequence of time?
Stage 2: Years 3 and 4 First Contacts – Community and Remembrance
A student:
HT2-2 Describes and explains how significant individuals, groups and events contributed to changes in the local community over time
HT2-4 Describes and explains effects of British colonisation in Australia
HT2-5 applies skills of historical inquiry and communication
Key inquiry questions:
Why did the great journeys of exploration occur?
What was life like for Aboriginal and/or Torres Strait Islander peoples before the arrival of the Europeans?
Why did Europeans settle in Australia?
What was the nature and consequence of contact between Aboriginal and/or Torres Strait Islander peoples and early traders, explorers and settlers?
Who lived here first and how do we know?
How has our community changed? What features have been lost and what features have been retained?
What is the nature of the contribution made by different groups and individuals in the community?
Historical concepts and skills
The historical concepts and skills to be taught throughout Stage 1 and 2 are listed in the Overview of Teaching and Learning.
---
Booking Information
Number of Students – 60 max
Duration – 2 hours, 3 hours or all day
Bookings – (02) 6772 3616