13 May 2022
The best of heritage has been celebrated today at the 2022 National Trust Heritage Awards at Sydney's Doltone House.
An Aboriginal heritage study, the launch of a restored 1940s steam locomotive, and an adaptation of a state-of-the-art regional art gallery were among the 16 winners recognised across eight categories, two individual prizes, a special President's Prize and the highly sought after Judges' Choice Award.
The National Trust Heritage Awards is an annual celebration of outstanding practice in the field of heritage, awarding excellence in conservation, protection, and interpretation of Aboriginal, built, natural and cultural heritage over the past year. The Awards are the signature event of the Australian Heritage Festival in New South Wales, co-ordinated by the National Trust and proudly supported by the NSW Government through Heritage NSW.
In a ceremony presented by the ABC's Simon Marnie, winners collected trophies for outstanding projects, while the Judges' Choice Award went to The Great Cobar Museum and Visitor Information Centre entered by Dunn & Hillam Architects, an incredible regional project that has completely revived the significant heritage building.
Chief Executive Officer of the National Trust (NSW) Debbie Mills said: "I would like to congratulate this year's winners – and all entrants – for their perseverance and dedication to heritage. We received an exceptional number and quality of entrants, all of which showcase just how much there is to appreciate, acknowledge and celebrate."
The Hon. James Griffin, NSW Minister for Environment and Heritage, said the Awards are a unique chance to celebrate the diversity of heritage right across our state. "The winning projects remind us not only of the importance of protecting our shared past, but also the ways in which we can bring heritage to life for all the people of New South Wales to enjoy and explore."
"These Awards provide much-needed acknowledgement of the work that goes into heritage conservation and protection," said Heritage NSW's Executive Director, Sam Kidman. "Congratulations to all the winners. We look forward to seeing the benefits of these projects in communities across New South Wales for years to come."
Matthew Devine presided as Chair of the jury for the National Trust Heritage Awards in 2022. Judges on the panel included: Barrina South, David Burdon, Dr Siobhán Lavelle OAM, Kathryn Pitkin AM, Lynn Collins and Peter Salhani.
The 2022 winners are:
Aboriginal Heritage
Woollahra Aboriginal Heritage Study – entered by Woollahra Council
Adaptive Re-Use
Ngununggula, Southern Highlands Regional Art Gallery at Retford Park – entered by Tonkin Zulaikha Greer Architects
Stephenson's Mill – entered by Susan Hutton
Walsh Bay Arts Precinct – entered by Tonkin Zulaikha Greer Architects
Conservation – Built Heritage
The Great Cobar Museum and Visitor Information Centre – entered by Dunn & Hillam Architects
Conservation – Interiors and Objects
The Discovery of an Old Master Panel Painting Masquerading as a 19th Century Copy – entered by International Conservation Services
Tulkiyan Interiors Conservation – entered by Ku-ring-gai Council
Continuing Tradition
Boer War Memorial Conservation Works – entered by Parramatta Park Trust
Education and Interpretation
Old Dubbo Gaol Upgrade – Stage 1 – entered by Dubbo Regional Council
Events, Exhibitions and Tours
In Search of…My First Nations of Australia Ancestors – entered by Society of Australian Genealogists
Locomotive 3801 Relaunch Events Program – entered by Transport Heritage NSW
Resources and Publications
Andrew Andersons: Architecture and the Public Realm – entered by NewSouth
SPECIAL CATEGORIES:
Judges' Choice
President's Prize
Dawn Fraser Baths – entered by TKD Architects
Lifetime Achievement
Heritage Skills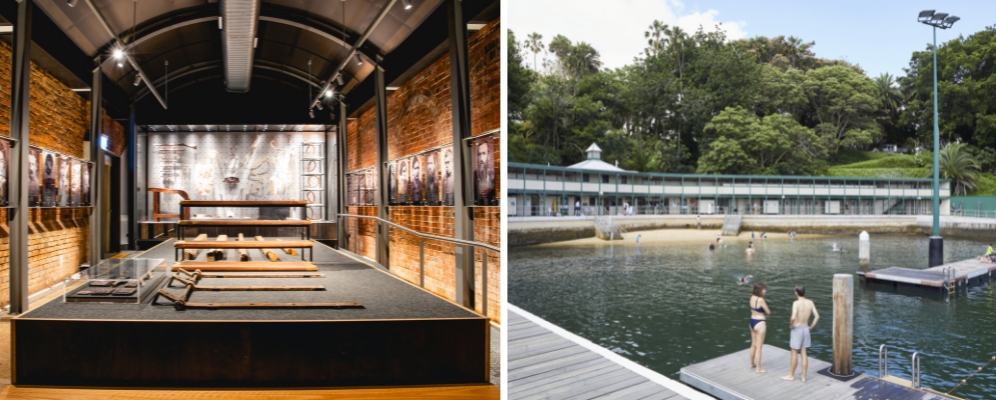 Media contacts:
Susan Darwiche
Double Shot PR – Director
Phone: 0414 706 704
Email:susan@doubleshotpr.com.au
Leah Tasker
Director, Marketing and Communications
National Trust of Australia (NSW)
Phone: 0435 266 924
Email: LTasker@nationaltrust.com.au