2 Nov 2022
Fragments of yellow silk discovered in a bag have been reconstructed into a historically accurate 18th century dress, thanks to a collaboration between the National Institute of Dramatic Art (NIDA) and the National Trust (NSW).
Believed to have been donated to the National Trust in the 1970s, the pieces of exquisite yellow silk damask were  discovered in a storage bag at Old Government House. The fragments were oddly shaped, with some sewn into a belt and child-sized bodice. While the luxuriousness of the fabric suggested it was from the 18th century, very little was known about its history.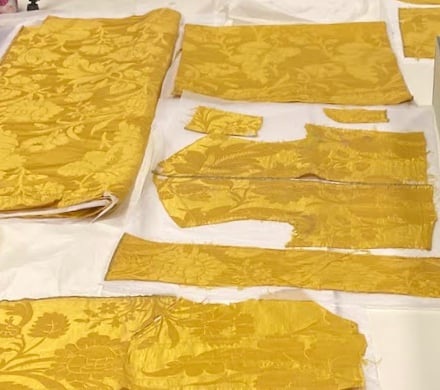 Pre-colonial dresses are a rarity in Australian collections, and restoring these garments takes time and expertise. The National Trust approached NIDA to see if they could help research the collection and piece the dress back together.
The NIDA team was led by expert dress historian and curator Hilary Davidson, who directed the research and reconstruction of the dress, along with third-year BFA Costume students, Lucy Francis and Jasmin Gray.
"As costume students, we research and remake historical dresses," said Jasmin, "but to get this chance to work on the real thing was an incredible opportunity."
Pieces reveal four dresses in one
The NIDA team spent five days going over the fragments of fabric. Like pieces in a jigsaw puzzle, they didn't initially make sense.
"The mystery of the yellow dress felt daunting and completely overwhelming," said Lucy. "It was clear that the dress had been picked, poked and prodded like a bad science experiment. We found remnants of 19th century hooks and eyes that had eroded. We had bodice pieces cut in the Victorian fashion. There were even a few spots of blood on the sleeve!"
The biggest riddles were the triangular-shaped pieces that looked like stomachers – a panel that fills in the front opening of a gown. "The pieces were too long to be stomachers," explained Lucy. "We began to think it could be a back piece instead, so we pinned them onto a mannequin and ended up making our biggest breakthrough – it turned out there was more than one back to this dress."
Through a careful process of piecing the fragments together, the NIDA team discovered that the dress had been cut and resewn four times over its lifetime. Remaking dresses was common practice in past centuries, when fabric was expensive and labour was cheap. The cost of the yellow silk alone during the 18th century may have been equivalent to the present-day cost of a car.
Faced with these multiple remakes, the NIDA team decided to create two dresses to best illustrate its past: Jasmin made a  cotton-sateen replica of the 1740 version; and Hilary re-sewed the original silk to its 1770 version of the dress, which was entirely hand-stitched. Lucy made replica supporting undergarments including a shift, paniers, stays and corset, to provide the silhouette typical of the 18th century.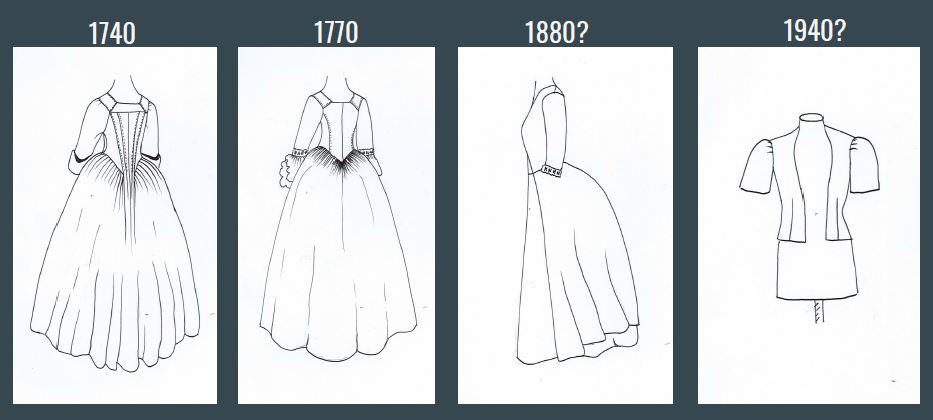 Finding the woman behind the silk
Meanwhile, the provenance of the yellow silk remained a mystery. The NIDA team traced the pattern and narrowed it down to the 1740s or 50s. There was no hard evidence until the team discovered the work of English textile designer Anna Maria Garthwaite.
Garthwaite was one of the leading English designers of her time, known for her vivid floral designs, hand-woven in Spitalfields, London. She used a weaving technique called 'Points Rentre​​s,' which resulted in a 3-D effect and shading to the pattern edge. Lucy believes Garthwaite's botanical designs closely resemble the stylised foliage and flowers found in the yellow dress' silk.
"We'll never know for sure if our yellow silk is hers," said Lucy, "but the size and the scale are very similar. Garthwaite never did an exact copy of her motifs. She didn't copy them between patterns. They're all a bit different, which is a lot like ours."

A new life for the yellow dress
Through all of the experimenting, researching, and sewing, the history of the yellow dress has had a lasting impact on the NIDA students.
"Understanding how they used to construct dresses has really helped me learn different sewing techniques," said Jasmin. "Of course I knew that things were sewn by hand, but the way they constructed things back then was completely different compared to what we do now with a machine. Learning these techniques has helped to inform my own practice."
Lucy also said the experience has made her aware of the historical life of a dress. "It might sound funny, but it felt like the dress had a personality. At first the dress wouldn't tell us anything, but when we finally got to know her, she slowly revealed her secrets. It felt like giving her another life. It was such an amazing opportunity."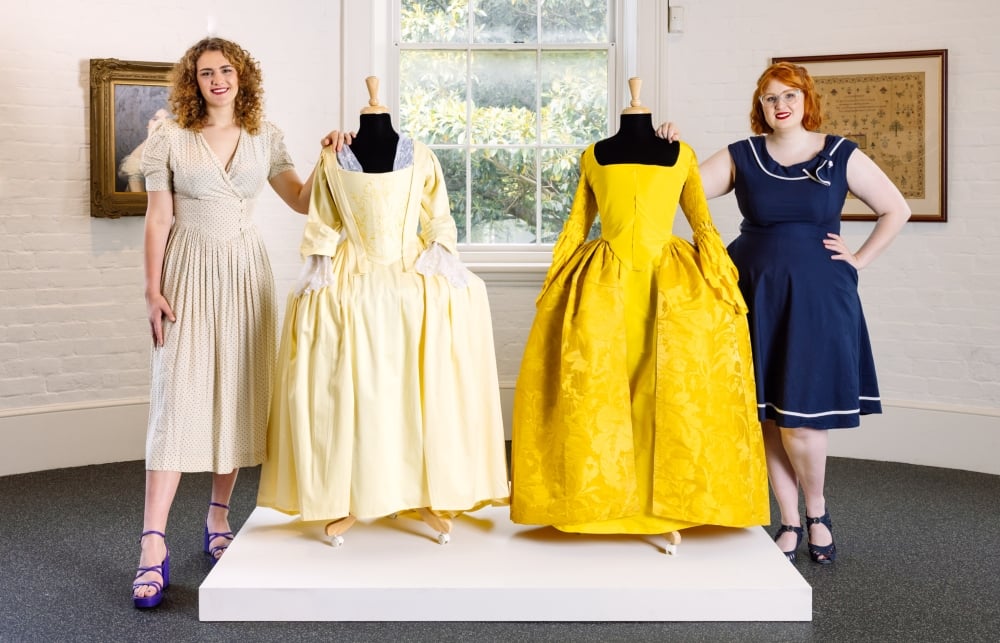 Rebecca Pinchin, Collections Manager at the National Trust, said the Yellow Dress project has also thrown light on what a new generation of creatives can bring to historical collections.
"We've been very lucky to work in collaboration with NIDA on this project," she said. "Not only have they transformed this 280-year-old fabric into two marvellous garments for everyone to enjoy, Lucy and Jasmin have also developed remarkable historical dressmaking skills that we hope will be valuable for their future careers."
NIDA CEO Liz Hughes said: "Great to see this industry collaboration with the National Trust and NIDA. This is a terrific project that speaks to the curiosity, imagination and craft skills of NIDA students Lucy and Jasmin, who have brought to life marvellous garments from the past and who will no doubt imagine our futures."
The original dress will join the National Trust (NSW)'s permanent collection of art, furniture and objects that are cared for in over 18 historic houses and galleries across NSW. The replica dress will be used in education programs and public programs.

The National Trust would like to thank the Copland Foundation for funding this conservation project. Special thanks also to Eleanor Keene, Thelma Scanes and Lindie Ward who assisted with the project, Suzanne Osmond, and NIDA course coordinators, Annette Ribbons and Corinne Heskett.