12 Sep 2022
The National Trust's Harper's Mansion is celebrating the recognition of Deputy Chair, Doug Werner as Senior Volunteer for the Illawarra Region at the recent 2022 NSW Volunteer of the Year Awards.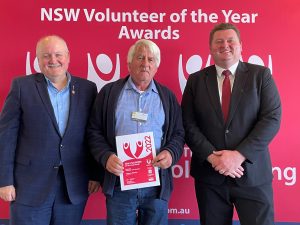 Harper's Mansion Deputy Chair, Doug Werner has been volunteering at the National Trust property for four years. Whilst he is an active member of the Trust's Hawkesbury Regional Branch, he also runs guided tours, hosts events, mentors and supports other volunteers.
The National Trust Properties Manager for the Southern Region, Nicole Taylor, said "Doug works tirelessly and he will often work early morning and into the night. And he's always looking to make other volunteers' experience at Harper's Mansion a really impactful one. He is always willing to take on a challenge; it's never too big for him and he'll do it with a smile."
Doug said "Since my retirement in 2019 it has been incredibly rewarding to throw myself into volunteering at Harper's Mansion and connect with not only visitors, but the local community. I am very honoured to receive this award and be a part of the volunteer team for the National Trust. If you have ever considered volunteering we will welcome you with open arms at Harper's Mansion".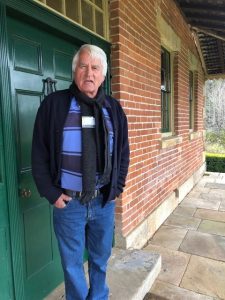 The timing of Doug's win is impeccable as Harper's Mansion calls for new volunteers to join their friendly team and help make a big difference. Harper's Mansion is one of Berrima's much loved and fascinating places to visit, which is only made possible by the continuous efforts of many volunteers just like Doug.
Harper's Mansion is a property of State heritage significance and is reflective of when Berrima was gazetted in 1831. The house is a fine example of colonial Georgian design that was originally built by local publican James Harper and his wife, Mary circa 1834 and later owned by the Catholic Church. A grand vision derailed by a 19th-century financial downturn, the residence suffered decades of neglect and has been lovingly restored by the National Trust.
The house now stands on two of its original one hundred acres and is furnished in colonial style. Visitors can stroll through generous cool-climate gardens that overlook the historic village of Berrima, and get lost in one of the largest hedge mazes in Australia. Whilst the grounds are alluring for green thumbs and are perfect for picnics, they also make a fantastic place to volunteer.
The National Trust urges anyone who loves heritage, historic places and picturesque gardens, and who enjoy meeting new people to apply, visit nationaltrust.org.au/Volunteers-nsw/.
People who volunteer can give a few hours, half a day or a whole day – weekly, fortnightly or monthly. Amongst many benefits, volunteers receive free access to National Trust properties in New South Wales. Harper's Mansion is open every weekend, 11 am – 3pm. For more information about Harper's Mansion, click here.