5 Dec 2019
The National Trust (NSW) has announced its Board of Directors for 2020, as elected by the organisation's members.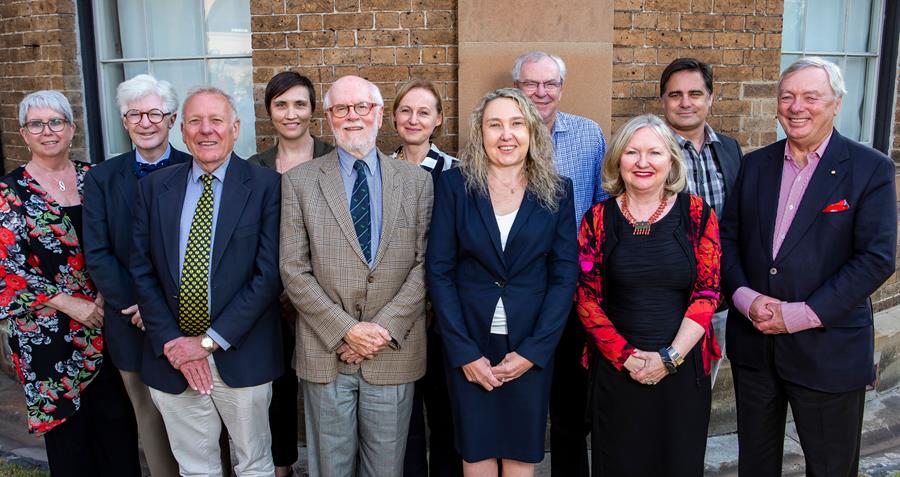 Absent from the image above is Mr Keith Parsons and Ms Caroline Mackaness, who sent their apologies for the AGM in November.

On 30 November 2019 at the Annual General Meeting (AGM) of the National Trust (NSW) held at the S.H. Ervin Gallery, the newly elected members of the Board of Directors for the organisation were announced. In accordance with The National Trust of Australia (New South Wales) Act 1990, our members are invited to elect six Board Directors annually and all 12 Board Members then elect our office bearers. 
The National Trust (NSW) has welcomed two recent additions to its Board of Directors – Director, NSW Government and sixth-generation Sydney-sider with a passion for Australian history, heritage and the natural environment, Ms Caroline Mackaness; and Ms Kathryn Pitkin, retired educator and Chair of the National Trust's Miss Porter's House (2014–2019), who holds a passion for playing the Celtic harp alongside a deep commitment to the good governance of organisations, especially those handling public money.
Of course it goes without saying, the National Trust (NSW) is deeply saddened to have recently lost acting President (2014 – 2019), Brian Powyer – whom no doubt would have been considered for the 2020 Board of Directors election. Acknowledging Brian as one of the "Greatest champions of heritage" as Julia Finn MP rightly said in her tribute to Brian in Parliament in November 2019, may our 2020 Board of Directors continue his passion for protection of Australian heritage moving forward.
The Board of Directors of the National Trust (NSW) for 2020 is as follows:
Mr Neil Wykes OAM, President and Treasurer

Ms Susan Hunt, Deputy President

Mr Noel Burgess (continuing)

The Hon Garry Downes AM (re-elected)

Ms Meredith Hutton (re-elected)

Ms Fenella Kernebone (continuing)

Dr Clive Lucas OBE (re-elected)

Ms Caroline Mackaness (newly elected)

Mr Keith Parsons (re-elected)

Ms Kathryn Pitkin, AM (newly elected)

Mr John Richardson (continuing)

Mr Ian Stephenson (continuing)

Debbie Mills, Chief Executive Officer (appointed)

See the full list of profiles for the National Trust (NSW) Board of Directors.