Enjoy a candlelit tour of Old Government House, Parramatta and hear stories of strange happenings experienced by volunteers, staff and past guests.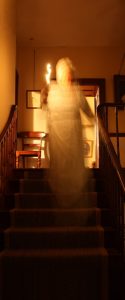 Creepy Stories is an approved and modified children's version of our long presented monthly Ghost Tours for adults.
It is a one hour twilight tour of the ground floor of the 222 year old early Governors country residence for 9 to 12 year olds. We tell age appropriate stories and antidotes about incidents and sighting while walking through the candle lit ground floor.
Children are encouraged to wear scary costumes to add to the feeling of the event.
The young guests will visit the School Room where there is a story of a young girl crying. They will hear about the first documented UFO sighting in Australia in Parramatta Park. We will tell stories of the spooky happenings on the stair case. Why did a cupboard door open by itself during a previous tour? What did a modern Governor of NSW see in the bedroom? And who disturbed the early Governors bed? Who is the Lady in Blue seen around the Corridors?
No photography is allowed during the tour but the children will have access to "ghost meters".
Apart from the guide the group will have at least one other staff member accompanying the tour. Children must be accompanied by an adult.
We'll try and solve some of the unexplained events from the House.
The tour is a mix of fun and a little scary but not frightening; for all those young minds interested in the unexplained.
Tickets: $10 per adult or child
Enquiries: Please email info@friendsofogh.com