Enjoy a candlelit tour of Old Government House, Parramatta and hear stories of strange happenings experienced by volunteers, staff and past guests.
Enjoy a spooky evening exploring Old Government House – if you dare! These tours have run for many years and guests always enjoy the tours. Tour this Georgian house by candlelight. Imagine the people who once walked these halls. Hear stories from staff, volunteers and past guests of unusual happenings. Learn of our colonial past.
This is truly a unique way to experience this World Heritage listed property and learn about the people who once lived in this house. This tour will help to bring history alive.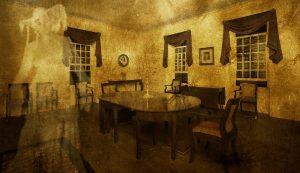 Photo credit: Matthew Fisher
This tour will appeal to people over the age of 16. It will especially appeal to people with an interest in history who want to see a different perspective. It is also a fun way for a group to enjoy a night out. Gather a group and make a booking. People with an interest in unusual happenings in old house find this tour appealing.
Part of this tour involves walking in Parramatta Park. Sensible shoes are recommended.
At the end of the tour enjoy a light supper of tea, coffee and something sweet and reflect on your experiences with other guests. This is your chance to describe any experiences you may have had on the tour.
Please note: This event is not suitable for guests under 16. For further information and Terms and Conditions please visit www.friendsofogh.com
Event details
Various dates available, 7.30pm – 10.30pm:
18 March
20 May
17 June
15 July
19 August
16 September
How to book your tickets
Tickets: National Trust members $32, adults $35.
Book via Eventbrite, where possible, to guarantee a spot.
Enquiries
Contact: info@friendsofogh.com or 0416026816