8 Mar 2022
For Women's History Month, we're celebrating the stories of some of the inspirational women who lived in, worked at, and protected National Trust (NSW) places. From passionate conservationists to self-taught artists – these are just some of the women who defied convention to walk their own path.
Annie Wyatt, founder of the National Trust of Australia (NSW)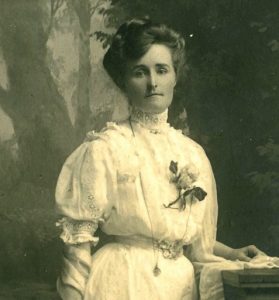 Over her lifetime, Annie Forsyth Wyatt was a conservationist and humanitarian who cared deeply about protecting built and natural heritage.
Born in 1885, Annie spent much of her childhood among the bushland and wildflowers of semi-rural Rooty Hill, NSW.  After marrying and moving to the leafy suburbs of Gordon, she was shocked to see the destruction of the natural environment and made her first bold move into conservation with the creation of the Ku-ring-gai Tree Lovers' Civic League in 1927.
Over the next two decades Annie worked for the Prisoners' Aid Association of NSW and the Red Cross – even publishing a historical romance, Doors that Slam, of which the proceeds went to charity.
But there was more to come: Annie's continued determination to preserve and protect bushland and historical buildings attracted a loyal following, and in 1945 she and a committee of dedicated volunteers founded the National Trust of Australia (NSW).
The National Trust movement quickly spread across Australia, and  branches were eventually established in each Australian state and territory. Now, thanks to Annie's incredible pioneering efforts, the National Trust (NSW) continues to ensure the protection of built and natural heritage for future generations.
Joan and Eileen Bradley, protectors of Australian bushland
In the 1970s, former industrial chemist, Joan Bradley, and her sister, Eileen, developed an approach to regenerating the Australian bush that would revolutionise the industry.
The sisters often walked their dogs on Bradleys Head, and as they walked they would pull out weeds, eventually noticing that the bush would naturally regenerate. This marked the beginning of the 'the Bradley method', which Joan later outlined in her book, Bringing Back the Bush.
The core principles are based on helping the bush to help itself, and include: working outwards from areas of bushland where the weeds are sparse and then moving gradually into areas of denser infestation; replacing leaf litter and minimising disturbance;  allowing native plants to germinate and regrow before proceeding to the next area.
This new approach was the beginning of minimal disturbance bush regeneration in NSW, and both Joan and Eileen went on to work with the National Trust (NSW) in 1976 to restore precious blue gum forest at Beecroft, Sydney.
In the same year, the National Trust actively commenced its Bushland Management Service (BMS), which continues to work with public and private landowners to help manage conservation of bushland and biodiversity.
Emily Twynam, self-taught artist
The overflowing sketchbooks and intricate wooden sculptures that dot the National Trust's Riversdale house in Goulburn are testament to the creative spirit of Emily Rose Twynam, who lived in the property with her family from 1875.
At a time when few women had access to formal artistic education, Emily was completely self-taught and drew on inspiration from her own gardens at Riversdale. She was constantly sketching flora and fauna, and her surviving sketch books are full of delicate Indian ink drawings of oak leaves and acorns, banksia, woody pear, cashew and kurrajong.
In her later years, Emily also took up carving and produced ornate picture frames and handmade furniture decorated with designs drawn from her sketchbooks. Today, her designs adorn the walls of Riversdale – a reminder of a woman who created and defined her own artistic life. Plan a visit to Riversdale
The women of Miss Porter's House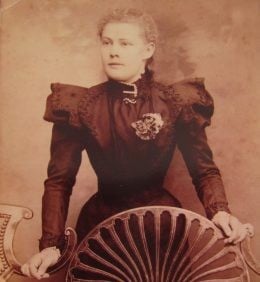 Florence Porter and her daughters, Ella and Hazel, were exquisite craftswomen who produced a vast collection of crochet, embroidery, clothing and household textiles that are now housed in the National Trust's Miss Porter's House, in Newcastle.
However the Porter women's story is more than just tea pots, doilies and cake. Miss Porter's House reflects three generations of women who were early European settlers, businesspeople, and survivors in tough times.
Florence's mother, Ann, had 11 children. After her husband died, she dealt with the family property, remarried after ten years, inherited ten stepchildren, and spent the last years of her life in Florence's home.
Later on, Florence was to face similar challenges herself. After losing her husband in 1919 to the influenza epidemic, Florence managed the family home and raised her young daughters, Ella and Hazel. Neither Ella or Hazel married – instead they became the family breadwinners, supporting their widowed mother at a time when few pensions existed.
The resilience and creative spirit of the Porter women lives on in their house, which was bequeathed to the National Trust in 1997 and is now a living snapshot of pre-1950s life in Newcastle. Plan a visit to Miss Porter's House.
These are only a few of the remarkable women who have helped shape the National Trust (NSW) and its properties. To learn more about our history, explore our collections and archives.
Want to hear more stories from the National Trust (NSW)? Subscribe to our newsletter