8 Sep 2015
he National Trust's position on the Sydney Harbour Control Tower
The Trust opposes the demolition of the Harbour Control Tower and has responded to the Barangaroo Delivery Authority's demolition notice emphasising the total inadequacy of the Authority's response and handling of this issue which strikes at the heart of heritage protection in NSW. If one of the last state significant historic remnants of Sydney's port operations cannot be saved then the Authority is highlighting the current failure of the NSW planning system to protect our most important heritage when State Significant Development is allowed to totally override heritage protection.
Nine reasons to keep the Sydney Harbour Control Tower in Barangaroo Park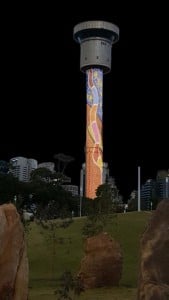 1. The Tower looks great in the Park and many people visiting the Park have that opinion. It really could be something special in Sydney, most cities would give an arm and a leg to have such a land mark to turn into a tourist attraction in a park.
2. Its vertical design is a good counterpoint to the horizontality of the park terracing and the arch of the harbour bridge.
3. The state government should stop wasting money on pulling down something that is already being put to a productive use. The tower brings in $100,000 per year from its telecommunication aerials.
4. It is the last landmark maritime structure at Millers Point recommended by the Heritage Council for listing on the State Heritage Register.
5. It could be the prime viewing tower for Sydney Harbour, for tourists visiting Sydney.
6. It could be a feature of a proposed Museum of Sydney Harbour in the current empty void beneath Barangaroo Park.
7. It could have images projected on to it during Vivid and other illuminations and fireworks could be launched from the tower.
8. There is scope for alteration and adaptation to the tower for a range of uses including a bistro / restaurant.
9. It was designed by one of Australia's leading architectural firms who designed the High Court in Canberra and involved CSIRO scientific studies to achieve its structural stability – it was very innovative in its day.
Action to conserve the Harbour Control Tower
The Trust calls on its members and the concerned public to contact the NSW Ministers for Planning & Heritage, the Premier and Heritage Council of NSW supporting the proposed listing of the Harbour Control Tower on the State Heritage Register and opposing the Barangaroo Delivery Authority's demolition proposal.