20 Dec 2017
The National Trust of Australia (NSW) is pleased to announce the appointment of Brian Powyer as President of Australia's oldest conservation organisation.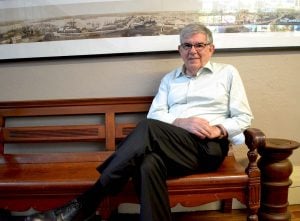 Brian brings a wonderful commitment to the National Trust having been a member for more than 30 years, Chair of both the Parramatta Branch and Education Committee of the National Trust, as well as being a volunteer guide at Old Government House. He was appointed a Member of the National Trust Board (NSW) in 2014. With a long career in education, including positions as Principal, Assistant Director Curriculum NSW and Secretary of the NSW Primary Principals Association, he is well placed to help set the agenda and lead the National Trust into the future.
Speaking after his election, Brian acknowledged the role of outgoing President, Clive Lucas.
"I am indeed fortunate to be coming into the position of President of the National Trust (NSW) following the presidency of Clive Lucas. Clive's knowledge of, commitment to, and leadership of the National Trust have contributed significantly to positioning the National Trust to be eminently placed to face the many challenges inherent in our roles of conserving, advocating and educating for the heritage of NSW.
"I look forward to Clive's continued support and expert input into the work of the National Trust. Moving forward I am very much looking forward to meeting and working with the many staff and volunteers that operate across all levels of the National Trust in a manner that truly makes us the leading independent guardian of our nation's cultural, natural and built heritage."
Outside the National Trust Brian is Chair of the Bidjigal Reserve Trust Board, Chair of the Parramatta Historical Society, Chair of the Parramatta Community College and member of the Parramatta Council Heritage Advisory Council.
At the same meeting, Susan Hunt who a former Deputy Directory of the Historic Houses Trust (now Sydney Living Museums) and Head of the Museum of Sydney and Neil Wykes, a chartered accountant who has been a National Trust (NSW) director and treasurer since July 2010 were appointed Deputy President and Treasurer, respectively.
The National Trust is very excited about these appointments and we are looking forward to the future with our new President.