13 May 2020
The National Trust (NSW) is deeply saddened by the news that Jack Mundey has died at age 90 in Sydney on 10 May 2020. We pay tribute to a life dedicated to the preservation of places that matter to the community, heritage, the environment and social justice.
Born in Mandala in Queensland in 1929, Jack Mundey's profile hit the headlines when he was appointed leader of the NSW Builders Labourers Federation in 1968 and – as planned construction for Sydney was set to boom at the expense of key historic areas.
In response to this, Jack Mundey and the BLF led the green bans movement in the 1970s guided by the principle that members of the union would refuse to work on projects they felt were socially or environmentally unjust. The result was a total of 42 bans on planned construction sites across the state. To quote Wendy Bacon's tribute to Jack Mundey in The Guardian, 'The nub of the green bans argument was that communities should have the right to shape and protect their environment, and that the workers whose labour was used to create the built environment should have a say in what was built'.
The movement saved the following areas and their built heritage from destruction:
The Rocks
Woolloomooloo
Darlinghurst
Glebe
Redfern
Newcastle
Various heritage buildings in Sydney's CBD
Kellys Bush Park in Hunters Hill
Centennial Park and the Botanical Gardens
Jack Mundey's stand on issues embodied concern for urban areas and planning, community spaces, heritage and environmental protection conservation and egalitarianism. His activism extended to party politics – as an active member of the Communist Party from the 1950s – and campaigning against conscription for the Vietnam War. His other roles have included City of Sydney Councillor, Parramatta Eels rugby league player and labourer.
He continued to support various campaigns for the protection of heritage and the environment in his later years. Mundey joined the Greens and supported a students' sit-in to save the College of Arts at Callan Park, then also lent his voice to the movement for the protection of the Bondi Pavilion. As Chair of the NSW Historic Houses Trust, he campaigned to save the Finger Wharf, the Female Factory at Parramatta and – until very recently – was a key voice in the successful stand to 'Save Sirius' in The Rocks.
The National Trust (NSW) has had the pleasure of Jack and Judy Mundey's company as our guests of honour at the National Trust Heritage Awards annually. On behalf of our Members and the community, we pay our respects and gratitude to Jack Mundey for protecting our heritage. We will carry his legacy forward. Our deepest condolences are with Jack's family and friends at this time.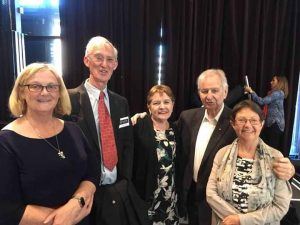 Jack Mundey (2nd right) National Trust Heritage Awards 2019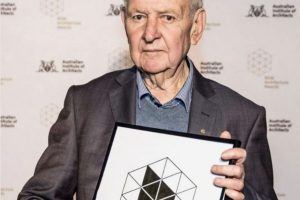 Jack Mundey was awarded the NSW President's Prize at the 2017 NSW Architecture Awards