17 Apr 2019
The National Trust (NSW) is pleased to announce the shortlist for the annual National Trust Heritage Awards, which acknowledges and celebrates the greatest innovation, conservation, education and advocacy with a view to preserving or protecting natural, built and cultural heritage in New South Wales over the past year. The Awards will be presented at Doltone House, Pyrmont, on 10 May 2019. Tickets are now sold out.
Assessed by an independent panel of judges across 11 categories, award entries were received from the building design and architecture sector, community groups, the culture and arts sector including galleries and libraries, leading researchers and publishers, and many more.
The National Trust Heritage Awards is celebrating its 25th anniversary this year and will announce the winners in each category at a luncheon event on 10 May 2019 at Doltone House in Pyrmont. Master of Ceremonies for the event is the ABC's Simon Marnie and the proceedings will include a keynote speech from Philip Thallis. The Awards program is a signature event of the Australian Heritage Festival in New South Wales, proudly supported by the NSW Government.
"The National Trust has highlighted the best of the best in the conservation, education and advocacy in all facets of our heritage for quarter of a century," said Debbie Mills, Chief Executive Officer of the National Trust (NSW). "We look forward to this event every year as it provides us with the opportunity to share with everyone in New South Wales why heritage is so important and valuable to our lives. It also showcases the dedicated organisations and individuals who work tirelessly and employ their extraordinary talents and skills to ensure that heritage is protected and shared with many generations to come."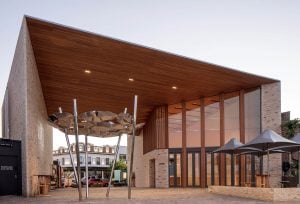 The National Trust Heritage Awards Shortlist in no indicative order are:
Category: Conservation Built Heritage
Projects that relate to the conservation of our built heritage including capital works and repair. These projects may include buildings, structures or sites, urban precincts, commercial items, places of worship, houses, interiors, additions, industrial heritage, infill or collections.
Shortlisted:
Bathurst Station Masters Cottage Refurbishment
Glebe Public School Conservation Works
Joan Sutherland Theatre Northern Foyer Lift & Passageway
Kingscliff Community Buildings Restoration
Oldbury Cottage Berrima
Parramatta North Conservation Works
Roseneath, Parramatta
Newcastle University House
Upper Canal Rectification Works
Wilcannia Post Office
Category: Adaptive Re-use
Projects that complement and utilise existing heritage fabric, re-purposed and new developments that are sympathetic to the traditional uses of a site and its structures, and protect the heritage integrity.
Shortlisted:
Fenwick Stone Building
State Library of NSW
Tayim at Evan's Stores
Tenterfield Isolation Ward Restoration
Category: Conservation Landscape
Projects that relate to the conservation of our landscape heritage, including management and conservation. Conservation of natural, urban and cultural landscapes including Indigenous places of significance are included in this category.
Shortlisted:
AILA NSW Landscape Heritage Study
Mungo Fossil Footprint Conservation Project
Natural Heritage Management: The grey-headed flying fox
Category: Conservation Interiors & Objects
Projects that relate to the conservation of historic interiors and objects. Movable objects are also included in this category.
Shortlisted:
Acquisition, conservation and relocation of the Tram Sheds WWI Memorial
City of Parramatta Archaeological Collection
The Melocco Room, Central Station
NSW Railways Remembers: Central Station Honour Board Reinstatement
Restoration of Thornton Station Waiting Rooms
Category: Education & Interpretation
Projects that serve to educate about, or interpret, our heritage in an engaging way. This may include curriculum-based educational projects and resources, and specific interpretation projects relating to a place or item.
Shortlisted:
Convict Love Token Outreach Project
Interpreting the Rayner Hoff sculpture in the Anzac Memorial
Sisters of Mercy
Category: Heritage Resources
Resources that promote the conservation of our heritage. This may include research, archaeological resources, heritage guidelines, fact sheets, field guides and heritage studies, both in print and online.
Shortlisted:
Addison Road Community Centre Conservation Management Plan
Chinese Gardens of Friendship
Sydney Trains Historic Painting Practices and Guidelines
True Australians and Pioneers: Chinese Migration to the Orange Region of NSW
Category: Heritage Publications
Publications, books, websites and videos that promote the conservation of, or tell the story of our heritage.
Shortlisted:
The Anzac Memorial Publication
Ettie's Diary
Kinchega
MidCoast Stories
Paddington: A history
Portraits of New South Wales
Remarkable
Promised Brides
Category: Heritage Events, Exhibitions & Tours
Events, exhibitions and tours that emphasise and promote education, interpretation and community engagement in heritage.
Shortlisted:
Cartographica – Sydney on the Map
Blaze: Working Women, Public Leaders
Bohemian Harbour: Artists of Lavender Bay
Inner West Built Environment Awards
Malachi Gilmore Hall
The Sutherland Shire Citizen's Heritage Festival
Tales from the East, India and NSW
Category: Continuing Tradition
Projects that continue tradition through new design, construction and development.
Shortlisted:
Anzac Memorial Centenary Project
Maitland Riverlink
The Nagle Library, St John's College
Category: Advocacy
Recognising the extraordinary commitment of a community group and/or individual who have pursued the protection and conservation of key heritage places, items or objects.
Shortlisted:
Friends of Callan Park
Revive The Regent
Save our Sirius
Windsor Bridge/Thompson Square Heritage Protection
Special categories
The Lifetime Achievement, Heritage Skills and the Cathy Donnelly Memorial Award Winners will be announced on 10 May, 2019.
The National Trust (NSW) will be hosting the National Trust Heritage Awards lunch at Doltone House in Pyrmont on 10 May 2019, tickets for which are now sold out. We will be announcing the winners and highly commended shortly after the ceremony.