21 May 2015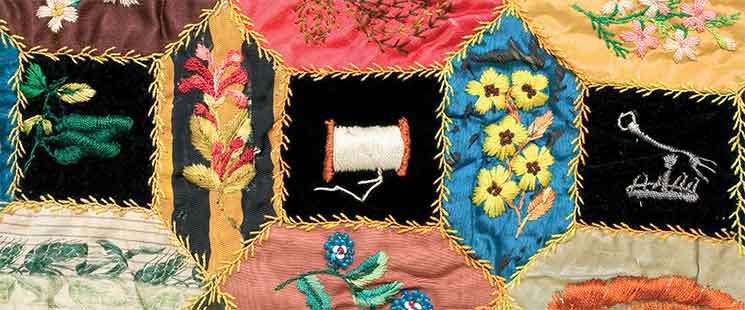 Labours of Love: Australian Quilts 1845 – 2015 is an exhibition featuring 35 stunning hand crafted textiles made in NSW from the mid 1800s to the present day.
The curator has chosen some of our freshly restored quilts from the Trust's Collection. Jane Donnelly from the National Trust has been working tenaciously with ICS Sydney – International Conservation Services to restore these beautiful patchworks.
Visitors to Labours of Love will see some of the finest example of quilts made in Australia. Spectacular heritage quilts on loan from the National Gallery of Australia, the Powerhouse Museum, the National Trust of Australia (NSW) and the National Museum of Australia as well as select examples from regional museums. The quilts and patchworks have been created for comfort and show, commemorate historical events and family occasions, and reveal social histories and personal stories. Made by women and treasured in families as objects of value, the heritage quilts in Labours of Love have been handed down through the generations before they were acquired and preserved in public collections.
This exhibition explores the history of quilting in Australia with exhibits dating from the mid 1800s to the mid 1900s in themes: Traditions from Home (mid 1800s); Skill and Taste on Show (1860-1900); Patriotic Voices (1870-1915); Family Ties and Friendship (1880-1930); The Beauty of Making Do (1930-1940); and Honouring and Maintaining the Craft (1940-60). Interspersed within these themes are contemporary works by artists to illustrate current engagement with quilt making.
Quilts in the exhibition reflect changes in technology, textiles, and fashion. They commemorate enduring relationships and family occasions and include quilts made to celebrate weddings, births, love and friendship. They also reveal an engagement with a wider world such as those with patriotic messages or a signature quilt created to raise funds during World War 1. Don't miss these beautiful exhibitions which will delight viewers with the level of skill, intricate detail and workmanship presented.