6 Mar 2022
Making Good: Convict Artisans in Exile launched at the National Trust's Old Government House on 5 March 2022.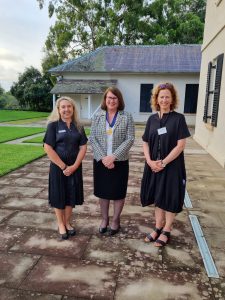 Built by convicts, Old Government House in Parramatta is one of 11 places that make up the Australian Convict Sites World Heritage series. The exhibition showcases a unique collection of artworks and objects handcrafted by convicts, revealing for the first time some of the untold stories of artisan convicts and the impact of their crafts on the colony.
Darug Elder Chris Tobin welcomed guests to the traditional country of the Burramatta clan of the Darug people. Parramatta Lord Mayor Councillor Donna Davis opened the exhibition.
"I am pleased that this fantastic exhibition is another reason to visit Parramatta and find out more about its amazing history," Cr Davis said.
Running until 27 November 2022, the exhibition brings together the works of potters, silversmiths, cabinetmakers, artists and clockmakers – many of whom were competent artisans in England before being transported to Australia for their crimes.
Exiled from their home, these convicts found a way to produce and sell their wares to ultimately gain their freedom in the colony, and the skill of their work is on full display.
From convict love tokens to beautifully detailed silverware, the exhibition also features furniture made by Laurence Butler and Alexander Hart, a clock by James Oatley, a ceremonial chair by William Temple and John Webster, art by Joseph Backler and Joseph Lycett, and textiles made at the Parramatta Female Factory.
Another exciting component of the exhibition is a multimedia artwork created by Western Sydney artist Kenneth Lambert in response to a convict-made bed, which asks bigger questions about the convict labour system and the impact on the Indigenous people forced from their land.
A series of exciting workshops and talks are on offer including; still life painting, art for kids, spoon carving and clay pipe making.
Exhibition curator Anna Ridley says Making Good urges us to think beyond the usual convict narrative. "We tend to think of convicts as petty criminals who were sent here for their crimes, but many of them brought skills to the colony," she said. "This is the first time these stories have been told in detail at the very place responsible for controlling the colony and the lives of convicts, Old Government House."
Plan your visit
Making Good: Convict Artisans in Exile
5 March – 27 November 2022
10am – 4pm, Tuesday – Sunday
Old Government House, Parramatta Park, Pitt Street Entrance, Parramatta 2150 NSW