The Portia Geach Memorial Award is Australia's most prestigious art prize for portraiture by Australian women artists, and is recognised as one of the most important celebrations of contemporary talent, creativity and diversity, reflected in entries from across the nation.
The Portia Geach Memorial Award is awarded for the best portrait of a subject distinguished in art, letters or the sciences.
The $30,000 Award was established by Florence Kate Geach in memory of her sister, Portia Geach, widely acclaimed as a leading artist and a frequent commentator in the national media of the time. Now in its 55th year, it has played a major role in developing the profile of Australian women artists, encouraging hundreds of emerging and established artists to exhibit their works.
The Portia Geach Memorial Award is given by Perpetual as Trustee.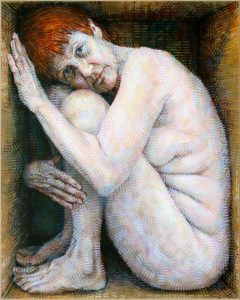 2019 Portia Geach Finalists
CATHERINE ABEL Duncan's Daughter Phoebe (Phoebe Packington, Student)
ELIZABETH BARDEN Jaya'ism (Jaya Suartika, Artist/photographer/tattooist)
KATE BEYNON Artist-self with Tudo and the studio spirits (Kate Beynon, Artist and teacher)
JOANNA BRAITHWAITE Crowning Glory-Portrait of Susi Muddiman OAM (Susi Muddiman, Director of Tweed Regional Gallery)
MICHELLE CAMPBELL Untitled (Dr Pauline Joseph, Senior Lecturer in records and archive management at Curtin University, WA.)
ANN CAPE Working late in the studio (Sophie Cape, Artist)
LESLYE COLE Willi and Jennifer (Willi and Jennifer Michalski, Ceramicist; Educator/ Mentor)
YVETTE COPPERSMITH Emeritus Professor Anne Green (Anne Green, Emeritus Professor of Astrophysics)
JULIE CORFE Harlequin & Pierrot (Paul Henschke, Scientist and wine maker)
DAGMAR CYRULLA Elegance II (Kym Ellery, Global Fashion Designer)
JO DARBYSHIRE Rox De Luca (Rox De Luca, Artist)
SINEAD DAVIES Dreaming (Tanya Lee OAM, Chairperson Corrille Foundation)
MICHELLE DAWSON Rene (Rene Bolten, Artist)
NICOLETTE EISDELL My cousin Harriet (Harriet Clutterbuck ASE, Documentary editor)
ESTHER ERLICH Alma (Alma Zygier, Jazz Singer)
LINDA GOLD His Other Jacket (Professor Julian Gold, Infectious Disease Medical Specialist)
JANE GUTHLEBEN The scratching post (self, artist)
ILDIKO HAMMOND Self-Portrait Close Up (Ildiko Hammond, Artist)
CHRISTINE HILLER Grieving Mother (Self portrait, Artist)
PETA HINTON Derek and Coequosa (Derek Smith, Science- Entomology Collection Manager)
POLLYXENIA JOANNOU Me, The Irishman and The Chair (John Reddin & Pollyxenia Joannou, John Reddin: Producer Film & TV – Pollyxenia Joannou, artist)
NICOLE KELLY Studio nude (self portrait)
ROSEMARY LEE Paradiso (Rosemary Lee, Artist)
KIM LEUTWYLER Trixie Mattel (Trixie Mattel aka Brian Firkus, Comedian, singer, songwriter, multi-instrumentalist, actor, drag queen)
KATHRIN LONGHURST Mariama (Mariama Hajaratu, Professional Wrestler)
ALISON MACKAY Self-portrait – Armoured
MARGARET MCKENNA Elizabeth (Elizabeth Laverty, art lover)
MATILDA MICHELL Shah (Shaharin Yussof, Martial arts expert (shihan 5th dan), president and country representative IFK Australia)
RACHEL MILNE Director (Randi Linnegar, King Street Gallery Director)
JUSTINE MULLER When they take our water, they take our blood (Badger Bates, Artist)
SUSAN O'DOHERTY Portrait of Teena McCarthy in Flannelette Shirt (Teena McCarthy, Artist and Poet)
AMANDA PENROSE HART Reg (Chris O'Doherty, aka Reg Mombassa, Artist musician writer)
LORI PENSINI Stellar Violets (Lucinda Giblett, Director – Stellar Violets Life Library Living Museum & Gallery, writer)
RACHEL PERRIN Bruce McWilliam at home – Still working (Lawyer)
VICTORIA REICHELT La Mere (after Elizabeth Nourse) (Victoria Reichelt, Artist)
*WINNER* – SALLY ROBINSON Body in a Box (Sally Robinson, Artist)
BRENDA RUNNEGAR Maria (Dr Maria Runnegar, Associate Professor Emeritus, University of Southern California)
SALLY RYAN Unchained Melody (Jacqueline Gibson and Ben Ryan, Lawyer and artist)
LYNN SAVERY Self-Portrait (Lynn Savery, Artist)
DEE SMART Christa Hughes (Blues Belter, Rockin Roll Hellcat, Cabaret Chanteuse, Songwriter, Actor and Comedian)
KYLIE MELINDA SMITH Eileen Kramer (Dancer)
LORIBELLE SPIROVSKI Homebodies (Simon Tedeschi, Musician)
ROBYN STANTON WERKHOVEN Eric & Robyn and the Mythical Beasts (Eric Werkhoven and Robyn Werkhoven, Artists and writers)
COLLEEN STAPLETON Solitude (Colleen Stapleton, Artist)
LILLI STROMLAND Tea Time (Georgina Stromland, Architect)
LIZ STUTE The Castle Motel (Self Portrait) (Liz Stute, Artist)
ROBYN SWEANEY Warrior Woman Karla Dickens (Artist)
JILL TALBOT Redundancy package with Ikea cushions and Netflix (self portrait, Artist/educator)
CLARE THACKWAY Self Portrait (Clare Thackway, Artist)
DEBORAH WALKER The Celebration (Compass tragedy) (Georgia Gibbs, Arts Student/Writer)
MIRRA WHALE Another side of Leigh (Leigh Sales, Journalist and author)
LEIGHA WHITE Dr Poelina (Reports from the battle of lower Fitzroy River) (Dr Anne Poelina, Managing Director of Madjulla Incorporated, environmental champion.)
ZOE YOUNG The Collectors (Paul and Suz Isherwood)
CAROLINE ZILINSKY Medusa The Seducer (Emily Hill, Artist, Poet, Wordsmith and Songwriter)
ZUZA ZOCHOWSKI Self Portrait with Green Bricks
TIANLI ZU 'Keep it all together' Her Excellency the Honourable Margaret Beazley AO QC, Governor of NSW (former President of the NSW Court of Appeal)
MICHELLE ZUCCOLO Self portrait with William (Michelle Zuccolo, Artist/art teacher)