29 Sep 2020
Debbie Mills is the Chief Executive Officer of the National Trust (NSW). She shares what she sees as the never-ending relevance of heritage and why it matters more than ever.
Here are a few choice phrases I often hear when I mention that I am the leader of a heritage conservation charity:
'Aren't they just buildings – why do they matter?'
'Heritage….so that's just a history thing, focused on the past.'
'Oh so you're the people that get in the way of new stuff getting built'.
Allow me to myth bust some of these assertions here and clearly state why I am so proud to lead an organisation that stands up for our heritage in New South Wales, and why it is a privilege to lead the National Trust.
So, aren't they just buildings?
For a start, yes there are buildings, many quite old and all of them unique. We care for them and we conserve them which involves thousands of dedicated volunteers across the state who support us to achieve this for the people of New South Wales, really for everyone. We have buildings and gardens in our care that we share with the community and they tell a story of the past and present, which then translates to a richer understanding of how we might shape our future.
The National Trust also has thousands of items in our collection, including irreplaceable documents, manuscripts, photography, musical instruments, clothing, glassware and tools – just to name a few – and they all weave a rich tapestry of meaning, identity and tell the story of how New South Wales came to be what it is today.
We care for natural and animal sanctuaries, and the National Trust Register is a rigorously researched and highly regarded catalogue of heritage significance that is referred to by policy makers, students, historians and the people who live in and shape our communities.
We're the protector and preserver of these places and collection items, but also the protector, preserver and sharer of the stories that come from them.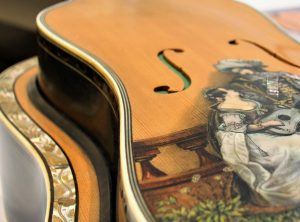 Heritage is just a history thing, only focused on the past
History and protecting the stories of our past is of course a huge part of what we celebrate as heritage, but it is not just about the distant past, it is not just about one version of the past and it is important to note that heritage evolves. Our built and industrial heritage provides a reflective step back in time that will tell future generations how building technologies advanced, workplaces changed, and how society and economy shaped who we are and where we live and work. Homes, everyday appliances, the phone or computer you're reading this on now – it's all living heritage and it all evolves because heritage is not static, it just grows richer and gains new meaning as time passes. We are all shaping the story of history.
There are many chapters to our history, and many chapters that continue to be written for the future. It is our vision to bring these stories to life for more and more people.
Heritage is getting in the way of new stuff getting built
Ahh, no! What we do is support development that is sensitive to places of significance, that cares for the place, and that does not destroy the character of our cities and towns but rather embraces the diverse representation of who we all are.
At the National Trust, we're big believers that development can be a sustainable and sensitive process, where meaningful community consultation helps shape the best outcome and ensures we all still feel a sense of belonging and that what is important to many of us is not destroyed along the way. Progress can march forward and respectfully glance backwards – or better still – progress can bring what is treasured and valued into the future so we continue to tell our stories for the benefit of future generations.
It really is a privilege and one that I treasure, that I am able to lead the National Trust as we bring heritage to life, while shaping our next chapters. Feel free to join me in busting some of the myths on heritage the next time they come up in conversation.