13 Nov 2020
Considered the only award of its kind in Western Australia, the Margaret Feilman Medal recognises meritorious achievement or service to heritage in Western Australia.
On Wednesday night, at the National Trust's Annual General Meeting, the recipients for this year's Margaret Feilman Medal were announced in front of our members.
We congratulate the recipients for 2020 – Diana Frylinck and Karl Haynes – and thank them for their enormous contributions to the protection of and access to Western Australia's heritage.
The Margaret Feilman Medal is named after Margaret Feilman OBE, a founding member of the National Trust of Western Australia. You can learn more about Margaret Feilman here.
We thank everyone that submitted a nomination, we look forward to running this program again next year.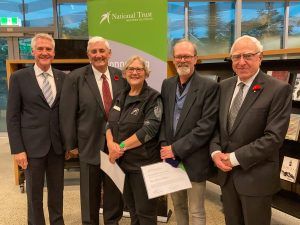 L-R: Julian Donaldson (CEO), Bob Kucera APM (Chair) Diana Frylinck, Karl Clement Haynes, and Hon Dr Ken Michael AC (President).
Read more about Diana's contributions here Read more about Karl's contributions here