A great outing for Father's Day!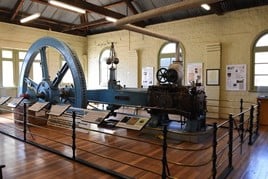 THIS EVENT HAS BEEN CANCELLED.
Step back in time to the 1880s when Goulburn was one of the first regional centres to supply piped drinking water to its residents. The Goulburn Historic Waterworks has remained intact with a pumphouse and working steam beam engine. It is located in an idyllic setting on the banks of the Wollondilly River.
This rare facility is the only complete, steam powered municipal water supply left in its original location in the Southern Hemisphere. The buildings and engine are of national significance and are now protected.
Before experiencing this historic machinery in operation, we will explore lesser-known parts of Goulburn with our knowledgeable guide John Jervis.
After the 'steaming' we will head into town for lunch and, depending on time, a visit to the Art Gallery.  After lunch, we will visit the Rocky Hill Memorial and its new state of the art museum before our last stop at Garroorigang for a guided tour of this beautiful, privately owned historic house and afternoon tea.
Cost:   $110 members           $120 non-members
Bookings and enquiries: Bookings and enquiries to the National Trust office info@nationaltrustact.org.au or 6230 0533 (office hours Tues-Thurs 9.30am-3pm).
The coach will leave from Deakin at 7.30 am and Ainslie at 7.45 am as usual and will return by 6 pm.