Heritage Walks
NATIONAL TRUST (ACT) HERITAGE WALKS
Next walks:
The Tharwa Bridge and De Salis Cemetery Walk scheduled for 26 November was cancelled because of the condition of the track. It has been rescheduled to Sunday 25 February. Bookings for November have been carried over but if you would like to book for this walk in February, go to https://www.trybooking.com/CLMID
Heritage Walks are open to anyone and are a fabulous way to explore important aspects of Canberra's heritage with our expert guides.
We use an audio tour guide system. This was supported with funding made available under the ACT Heritage Grants Program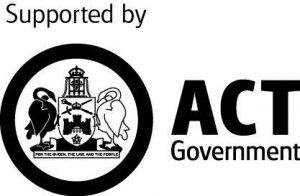 .
Heritage Walks are open to all so please let people know about walks that may be of interest to them. Walks are usually held on the fourth Sunday of the month.  Walks will commence at 9.30 am from the meeting point set out under each walk and will last between 1 ½ to 2 hours (unless advised otherwise).  Numbers are limited and bookings are essential.  Please read the Guidelines for Walkers before booking.
Walks are generally between 2 and 4 kilometres and have reasonably frequent stops but walkers should be able to keep up with the group so as not to inconvenience others.  Walks are not generally suitable for prams, small children, wheelchairs or mobility scooters.
Our bookings open 1 month before the Walk.  If a Walk is full, please add your name(s) to the waiting list as there are often cancellations or we may repeat walks if there is strong demand.
Price: $15 (unless otherwise notified)
Note:  For the comfort and safety of other walkers, we do not allow dogs on our walks.
Inquiries about Heritage Walks or to receive the monthly Heritage Walks update write to heritagewalksact@gmail.com
Guidelines for Walkers
Before booking for a Heritage Walk you should read the walk description and consider whether the walk is within your capabilities.  In making this assessment you should make enquiries via heritagewalksact@gmail.com if you require further information.  You must register through the walk booking website for each walk you wish to attend and pay the appropriate fee.  By registering you confirm that you have read the disclaimer below and understand your personal responsibilities when joining a National Trust (ACT) Heritage Walk.  Walks will commence promptly at the advertised time, and as a courtesy to other walkers and the walk leader, you should plan to arrive and park 10 minutes earlier.
Cancellations
• If cancelled more than 7 days prior to the date, a full* refund will be given.
• If cancelled within 7 days of the event and the place can be filled or if there are exceptional circumstances, a full* refund will be given.
• For events booked through Trybooking, requests for refunds should be made via the Contact Event Organiser button on Trybooking or to events@nationaltrustact.org.au or heritagewalksact@gmail.com
*If booked online the service providers may withhold their fees.
Disclaimer
While National Trust (ACT) events are covered by Public Liability Insurance, all persons participating in such an event do so as volunteers in all respects and as such accept responsibility for any injury howsoever incurred and the National Trust (ACT), its office bearers and appointed leaders, are absolved from any liability in respect of injury or damage suffered whilst engaged in any such event.
To minimise these risks participants must inform themselves about the nature of the activity and ensure that this activity is within their capabilities. They should carry: food, water, medication, clothing including footwear and equipment appropriate for the activity and the expected weather. They must advise the leader of any physical or other limitation, or any dependence on medication, that could require urgent attention during the activity, while confirming that any medication or limitation will not prevent them from completing the activity. Participants must remain with the rest of the party during the activity unless they advise the leader otherwise, keep the leader informed of any concerns, and comply with all reasonable instructions of the leader.
COVID19 safety: Please check the current ACT health guidelines on protecting yourself and others before booking on walks.