St John's Schoolhouse was the first combined school and school teacher's residence built on the Limestone Plains circa 1845.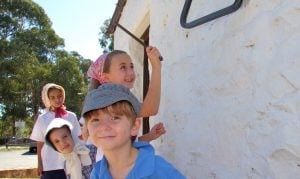 Constructed of locally quarried bluestone, with a shingle roof, the building consists of the schoolroom and five rooms for the school teacher's residence.
The School closed in 1907. The residence was occupied by local families until the 1930's, when it was used by church and community groups as a meeting place.
Restored by the National Capital Development Commission in 1968, the Schoolhouse opened as St John's Schoolhouse Museum in 1969, promoting the local and national history of Canberra including education, churches, and the development of Canberra from pioneering rural community to the National Capital.
The Schoolhouse has a strong association with the early pioneering families.
Interesting links:
https://www.stjohnscanberra.org