17 Apr 2015
Wanslea - Cancer Wellness Centre Win at WA Heritage Awards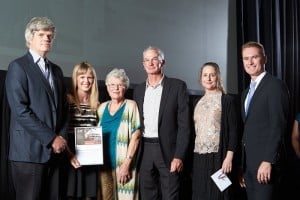 L-R Presentation of the top award for conservation and adaptive reuse for Wanslea, Cancer Wellness Centre at the 2015 WA Heritage Awards including Jonathan Strauss, Susan McGregor, Mrs Judy Gauntlett, Bernard Seeber, Fiona Gauntlett and the Hon Albert Jacob, Minister for Heritage. Courtesy Office of State Heritage.
The successful transformation of Wanslea at Cottesloe into the Cancer Wellness Centre was recognised with the prestigious Gerry Gauntlet Award at the 2015 WA Heritage Awards held in Perth on 15 April.
A partnership between the National Trust of Western Australia and Lotterywest, with significant support from
BHP and the Brady Cancer Support Foundation has created an outstanding environment for leading cancer support organisations.
Bernard Seeber Architects led the design team, with building work undertaken by Colgan Industries Western Projects.
Judges described the conservation and refurbishment of the significant 1905 State heritage registered place as "a very good community-based project and an example of current best practice conservation methods, processes and procedures coming together and achieving a functional and economically sustainable outcome."
Wanslea Cancer Wellness Centre is now home to Breast Cancer Care WA, melanomaWA, the Brady Cancer Support Foundation and Cancer Support WA.