29 May 2015
The National Trust of Western Australia has marked its commitment to reconciliation with a smoking ceremony at the Old Observatory in Perth on 27 May.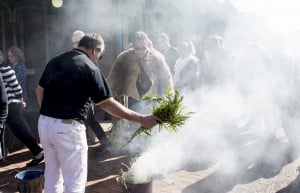 Whadjuk Noongar smoking ceremony beginning at the Old Observatory
Whadjuk Elder Neville Collard led the process which filled the original 1897 Government Astronomer's residence and National Trust Headquarters with sweet smelling smoke from Balga resin and the foliage of Peppermint and Paperbark trees.
Whadjuk Elder Irene Stainton, who is the first Aboriginal person appointed to a National Trust Council acknowledged the benefits to reconciliation National Trust activities and programs can bring through better awareness and strong partnerships.
A program of Smoking Ceremonies is underway at National Trust properties as part of its commitment to reconciliation. The short doc Barnam Warra Kartaga Longa Koort Boomgur (Clearing away bad memories pressed close to the heart) captures the compelling process recently held at 57 Murray Street, Perth by Whadjuk Noongar Elders.
This production acknowledges how Aboriginal lives were profoundly impacted by government policies and practices administered from the building between 1912 and 1945. The short doc has been released on youtube as part of the National Trust's long term commitment to reconciliation.