22 Apr 2020
The National Trust ACT Heritage Awards are a way of celebrating our heritage and the work done to preserve and protect it.
The awards are a positive way of recognising and promoting best practice heritage action in the Capital.
The awards will cover all aspects of heritage including archaeological, indigenous, built and objects and will consider large and small projects, conservation and adaptive re-use, intangible and tangible heritage, built projects and reports.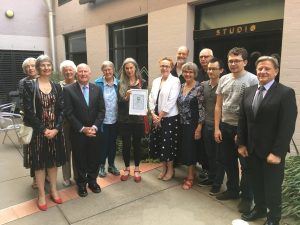 Nominations are now closed for this year's Awards. Entries will be reviewed by a specialist panel and award certificates and plaques will be presented to the winners at a special Awards Presentation Night later in the year. Winners will also receive recognition through the National Trust networks.
Enquiries: Email info@nationaltrustact.org.au or call Eric Martin on 6260 6395.
The 2020 National Trust ACT Heritage Awards are proudly sponsored by CAPITAL HOLDING GROUP