Bookings have now closed for this event.
After our long period of hibernation, we are very pleased to invite you to our end of year party at the ACT Heritage-listed Tuggeranong Homestead.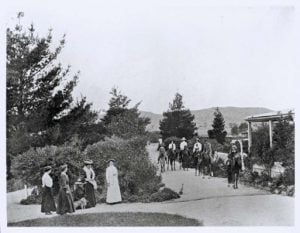 National Library of Australia: obj-136804281
Some of you may know the venue from attending events there but others may have only heard of it and will be keen to explore its many layers of history from Aboriginal occupation, through its pastoral period and the Cunningham family, its association with war historian, Dr Charles Bean and the history of World War 1 to today.
Chair of the Minders of Tuggeranong Homestead and author, Jenny Horsfield, will give a talk entitled 'Letters from the Limestone Plains'. You will also be able to wander around the property to see some of the history for yourselves.
Tuggeranong Homestead is providing the food in the garden. Drinks can be purchased at the bar. 
Bookings have now closed for this event.
Enquiries: events@nationaltrustact.org.au
Tuggeranong Homestead is at 51 Johnson Drive, Richardson