29 Sep 2022
A proposed development in Harris Park Parramatta, located directly behind historic Hambledon Cottage, will have an overwhelmingly negative impact on both the cottage setting and its surrounding cultural landscape. Find out what's proposed and what you can do to stop this overdevelopment.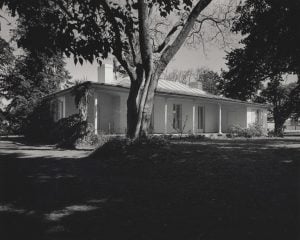 Harris Park is an important part of Australia's farming history, having been the site of the country's first successful European agricultural industry. Without the prosperity of farming in this area, the Australia we know today may never have been established. In 2022, Harris Park exists as a low-rise residential suburb, with pockets of interconnected history including Hambledon Cottage, Elizabeth Farm Cottage, Experiment Farm Cottage and Clay Cliff Creek.
All three of the cottages played an important role as the homesteads and accommodation for establishing this early farming community. Experiment Farm, as its namesake suggests, was indeed the first farm in the Parramatta region, a "test run" to establish whether the area was suitable for continued crop farming. After the successful foundation of agriculture in the area, Elizabeth Farm and Hambledon Cottage were established by the MacArthur family, pasturalists who pioneered the wool industry in Australia. All three cottages were located in proximity to Clay Cliff Creek for immediate fresh water access.
Hambledon Cottage, Elizabeth Farm Cottage and MacArthur Cottage are all listed on the NSW State Heritage Register, with each enclosed by a curtilage of appropriate gardens and landscaping. To have these three historic homesteads conserved within Harris Park is a rare and precious feat, and the landscape curtilage between them should be respected and appropriately considered when developing the area.
Proposed development
The proposed development at 2a Gregory Place, Harris Park, is located directly behind Hambledon Cottage, and will have an overwhelmingly negative impact on both the cottage setting and the surrounding cultural landscape.
The proposal would involve the demolition of an existing factory, and replacement with a series of three large-scale, 4-8 storey apartment blocks across the site. The development is situated directly behind Hambledon Cottage, and partially in front of Experiment Farm reserve.  It seeks to further divert Clay Cliff Creek to the rear of the apartment blocks, creating a public walkway along behind the mass of buildings.

No blue skies for Hambledon Cottage
Hambledon Cottage is predominantly surrounded by low-rise residential buildings, with the adjacent factory largely obscured by the surrounding trees. The dwellings neighbouring the Hambledon Cottage are 1-2 storey dwellings and townhouses, accessible by dead-end roads which do not support large amounts of traffic. The suburb is filled with a large amount of mature trees and landscaping, adding to its suburban character.
The proposed development does not fit with this low-density urbanism of the area, designed with up to 8 stories across the 200m+ site. At present, Hambledon Cottage is situated with a backdrop of trees and sky, peppered with some taller developments. If the development is approved, it will be sighted almost entirely with the apartment buildings in its background, severing its connection to the original blue-sky country setting.
The National Trust do not support the scale of the proposed development – as it does not fit with the low-density Harris Park urban character, and undermines the historical setting of Hambledon Cottage.


Visual connections severed
The proposed development further compromises the setting of Hambledon Cottage by severing its view lines to the surrounding heritage buildings of Elizabeth Farm Cottage and Experiment Farm Cottage.
The proposed development is located directly between these three properties, and completely interrupts any views or physical connections between them. Considering the approximately 200 year relationship between these farmsteads and their shared history in establishing Australia's agricultural industry, efforts should be made to conserve the physical connections and vistas between them, instead of completely cutting the houses off from each other.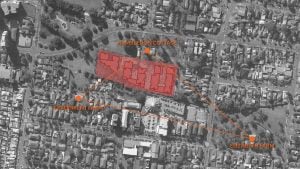 Clay Cliff Creek
The proposed development also misses the opportunity to positively engage with Clay Cliff Creek, which runs along the property boundary. Clay Cliff Creek was an essential element in the agricultural settlement of Parramatta, being the freshwater source for both Experiment and Elizabeth Farms. Without this water source, the budding agricultural industry could never have been established.
Clay Cliff Creek has since been converted into a storm water channel, and the opportunity exists to redevelop and re-wild the waterway, bringing back its former ecological features and advantages. However the proposed development, whilst attempting to engage with the creek, sees it remain as a storm water channel rather than a naturalized waterway. This is a lost opportunity to engage with the true ecological heritage of the area that made Harris Park ideal farmland.

What you can do to stop this overdevelopment
Submissions in response to this development have closed, but that doesn't mean you can't contribute! Write to Parramatta council with your objections at council@cityofparramatta.nsw.gov.au and keep an eye out for further information on the National Trust Facebook & Twitter.
Stay up-to-date on future advocacy news
Subscribe to our free monthly e-newsletter to hear about our latest advocacy efforts for protecting NSW heritage.