11 Jul 2023
Geoff Wilson (1927- )
July Landscape – McLaren Vale
1977
Synthetic polymer paint on canvas
60.5 x 88.5 cm
Private collection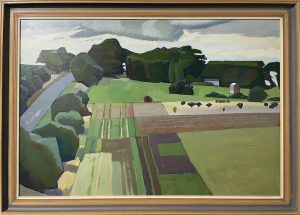 Geoff Wilson was in 1927 born in Bridgetown, Western Australia and he settled with his family in South Australia in 1941. He studied at the South Australian School of Art and Adelaide Teachers College, and then became a secondary teacher. Geoff travelled to London in 1954 and spent 3 years travelling through Europe (1954-1956) where he was influenced by Gaugin, Cezanne and Seurat.  After returning to South Australia he was appointed a lecturer at the South Australian School of Art in 1961 where he remained for 20 years before retiring in 1982 to concentrate on his artistic endeavours.
Geoff Wilson is a landscape painter who originally worked in watercolors but turned in the 1970s to acrylics and then to oil paints. Geoff was a member of the Strout Farm and the Pengilly Farm Groups who painted en plein air. Other members included David Dridan, David Dallwitz, Lesley Redgate, Christine Lawrence and Hugo Shaw.
Geoff has exhibited at the Royal South Australian Society of Arts (RSASA), the Contemporary Art Society (CAS) and in commercial galleries. He is represented in the collections of the National Gallery of Australia and the Art Gallery of Western Australia. In 2022 he was awarded an Order of Australia (OAM) for service to the visual arts and as well as an honorary doctorate from the University of South Australia.