17 Dec 2014
The Bell Tower and beaches, a civic centre and a shed that's now a theatre.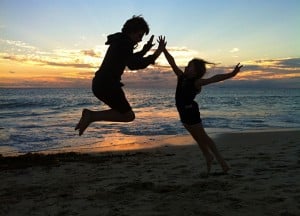 Year 4-6 Joint Photo Winner: Sunset Siblings by Monet Simmons of North Cottesloe Primary School
These are just some examples of places students chose to feature in a competition aimed at encouraging them to appreciate WA'S natural and built heritage.
The National Trust of Western Australia's annual Valuing Our Heritage Competition has been running for 10 years and invites school aged students to submit a story about and photographs of a place special to them. The competition includes a multimedia category.
The winning students were acknowledged at a recent awards ceremony (end of November) held at the Trust's headquarters at the Old Observatory in West Perth.
'This year judges noticed a strong emphasis on the natural environment in both the stories and photographs. One of the winning stories, centred on the Bell Tower for instance, highlighted the conflict between the built and natural environments,' Deputy Chief Executive Officer of the Trust Enzo Sirna said.
"The standard of entries was so high they found it difficult to single out overall winners, " he added.
"In the multimedia category, this year, for the first time, a general commendation was given to a whole class because of their outstanding work which showed a good understanding of heritage and its importance to their community," Mr Sirna explained.
"And in the Year 4 – 6 photo section the judge found it so hard to make a decision we have joint winners, "he added.
For more information please contact the National Trust (WA) on 9321 6088 during office hours.