14 Nov 2014
The Hon Colin Barnett MLA, Premier of Western Australia opened the new Cancer Wellness Centre in the newly refurbished State heritage listed Wanslea, at 80 Railway Street, Cottesloe on Friday 14th November.
Wanslea, Cottesloe Read about our work.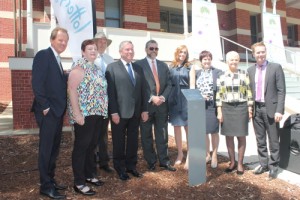 Premier Colin Barnett and distinguished guests celebrate the opening of the new Cancer Wellness Centre at Wanslea, Cottesloe.
Photo Sarah Murphy
"The National Trust has done an excellent job at taking a heritage building and giving it a new life," Mr Barnett said.
More than 200 people attended the opening and heard how the underused State heritage asset had been successfully transformed into a leading cancer support facility and new home for Breast Cancer Care WA, melanomaWA, the Brady Cancer Support Foundation and Cancer Support WA with more than $8 million in Lotterywest grants.
National Trust President Max Kay said a partnership between the National Trust of Western Australia and Lotterywest with significant support from BHP and the Brady Cancer Support Foundation has created an outstanding environment for leading cancer support organisations.
"The National Trust is a Trust for government and community and this Trust initiative delivers outstanding adaptive reuse, economically sustainable community benefit and an exceptional future for one of the State's highly valued heritage places," Mr Kay said.
National Trust President Max Kay also formally recognised Trust CEO Tom Perrigo for initiating and co-facilitating the project.
Wanslea's new Cancer Wellness Centre remains in keeping with a tradition of care for orphans, returned serviceman and POWs and the children of unwell mothers that was established by the Independent Order of Oddfellows in 1905.
"Accommodation at the Cancer Wellness Centre is specifically designed for cancer support organisations and users. The heritage buildings have been conserved, facilities enhanced with new buildings and trees retained to create a peaceful and pleasant environment for carers and visitors."
"The investment in Wanslea has also created 6,500 days of employment in conservation and adaptive works which equates to about 28 construction jobs for a year, while increasing the service and employment available within the cancer support organisations."
Lotterywest provided funding to the National Trust in 2010 to plan and develop the new centre to accommodate a diverse range of cancer support groups while providing access to local, national and international practices in health care.
"The National Trust will now deliver ongoing public education and learning programs on Wanslea's heritage values including virtual visitation on its web page which articulates its very interesting history," Mr Kay said.