28 Sep 2012
Melbourne's Tall Ship Stands Tall
The Polly Woodside sailed into first place this week, winning one of only two awards for a Permanent Exhibition (Level 3) at the Museums & Galleries National Awards (MAGNAs) in Adelaide.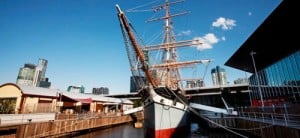 MAGNAs encourage the continuous improvement and development of Australian museums and galleries, inspire and recognise best practice and innovation in the collecting sector, and enhance the profile of museums and galleries in local and wider communities.
The National Trust of Australia (Victoria)'s "…new museum to tell the story of the Polly Woodside tall ship moored in the adjacent dock. Using its object collection, the Polly Woodside employs innovative museum interpretation and programs to engage wide visitor interest in the ship's history and Melbourne's maritime culture."
"Judges felt this was a very well developed project that pressed far into an expert interpretation of its material and subject matter, not just relying on the obvious historical strength of the major artefact (the Polly Woodside ship). Judges were impressed at how interpretation supported living conservation project objectives, thereby strengthening values of sustainability longer term." (extracted from the Museums Australia MAGNAs website)
"It is a real credit to the hard work and effort of many staff that this innovative experience has beaten much larger organisations' efforts and placed the National Trust on top…" said Martin Purslow, CEO of the National Trust of Australia (Victoria).
"…It was developed with enthusiasm and imagination on a very limited budget from a blank piece of paper and no funding over five years back, to relate a story in a way that was enjoyable and informative but also related the hardships, lows, and highs, of life on a tall ship…" he continued.
Find out more about the Polly Woodside.