8 May 2013
Winners have saved the best of our past for the future.
The iconic tank stand, where a young Don Bradman honed the skills that would see him become part of Australian folklore, is among the amazing and varied pieces of heritage restored and recognised at the 19th National Trust Heritage Awards for NSW.
The awards have come to represent the pinnacle for those saving our past for the future.
2013 winners include the restoration of a now-vibrant wetlands in the Hunter Valley, rebuilding a crumbling church (which is a resting place to 40 first fleeters), reviving Wollongong's North Beach Bathers Pavilion, creating a 'sand library' to assist with vital mortar restoration projects, and reshaping the Chinese Gardens in Darling Harbour.
"This is about our future, as much as our past, and what has been saved for the next generations is truly remarkable," notes National Trust NSW CEO Brian Scarsbrick. "We owe a debt of gratitude to all our award winners. What they have managed to give us – sometimes against tremendous odds and with painstaking attention to detail – is a wonderful gift for the future."
HERITAGE AWARD WINNERS

CONSERVATION BUILT HERITAGE – COMMUNITY/INDIVIDUAL
For projects that relate to conservation of our built heritage including capital works and repair. Such projects may include buildings, structures or sites, urban precincts, commercial items, places of worship, houses, interiors, additions, infill or collections.
Joint Winner: Clive Lucas Stapleton & Partners
Sir Donald Bradman's Boyhood Home
This building retains its use as a residence giving people the opportunity to stay in Sir Donald Bradman's home and experience the place with the opportunity to step into Bradman's footprints making this a key component in the Bradman memorabilia in Bowral. The private owners are to be congratulated as are the architectural team who oversaw this restoration and rejuvenation.
Joint Winner: Blackwoods Constructions
St Joseph's Church
This project was a labour of love. The building was in ruins and lay largely unrecognised by the wider community but was loved by its owner and the locals. The work was financed and carried out by the building's owner with help from neighbours and friends. It is truly a community project and has brought back to life the oldest Catholic Church on mainland Australia.
Highly Commended: St James Church, Design 5, Mott Macdonald, Jasper Swann, Rosemary Annable, Gondella, Heritage Stone Masonry, Combined Roofing Solutions
St James Church
The roof and masonry repairs constitute Stage 2 of the meticulous conservation of this important Greenway Church in the centre of Sydney. All work was informed by research and sound judgement by a team of dedicated professionals and master crafts people with the knowledge that this phase was but one of a history of continuous careful conservation since the Church's consecration in 1824.
Highly Commended: Peter Freeman
The former Presbyterian Manse
This project is part of the Historic Houses Trust Endangered Houses Fund with the principle 'as much as necessary and as little as possible' foremost in all thinking and planning while still providing the modern necessities in an appropriately scaled addition coupled with the conservation of fragile wallpapered internal elements.
Letter of Praise
A special letter of praise and encouragement was given to Tony Parker by Workshopped and Covemore designs- unfortunately they didn't quite fit into a particular category this year. And judging them against the other works in this category was too tricky. The revival of the furniture and the techniques used are commendable.
"On behalf of this year's jury for the National Trust Heritage Awards I would like to commend you for the work you are doing to continue to produce Tony Parker's iconic furniture designs. Parker Furniture is, and was, a household name, synonymous with quality design and craftsmanship. To have these pieces available and to employ, and teach, the original skills in their creation is a great achievement and a major contribution to Australian design and craft.
We were sorry that we could not find a category within the awards for this project but we greatly enjoyed seeing it and are very supportive of your aims and objectives. What this project demonstrates is that the preservation of the design and skills of manufacture are as important as the preservation of the object, something we often fail to recognise or promote. Good luck in your future endeavors and we look forward to seeing these works again adorn the homes of the period as well as the homes of many other periods. As they say quality never goes out of fashion."
CONSERVATION BUILT HERITAGE GOVERNMENT & CORPORATIONS
For projects that relate to conservation of our built heritage including capital works and repair. Such projects may include buildings, structures or sites, urban precincts, commercial items, places of worship, houses, interiors, additions, infill or collections.
Winner: Office of Environment and Heritage, National Parks Wildlife Service
Yarrangobilly Caves House, Kosciusko National Park
This project is an outstanding example of meticulous planning and care, and the Government is to be applauded for investing in such a remote and important building and place.
The self-sufficiency aspects coupled with the quality of the work make this a compelling and beautiful project.
Highly Commended: Clive Lucas Stapleton & Partners
Hyde Park Barracks – Reconstruction of Gate Domes, Sydney
As you'd expect from this client and these architects the reconstruction of these domes to the gatehouses at this world heritage site are beautiful, carefully detailed, traditionally constructed and make an invaluable contribution to the Barracks and the streetscape.
Highly Commended: City Plan Heritage
Victoria Park Gardener's Lodge, Sydney
A new lease of life to a building of mixed fortunes has brought back into focus the importance of the Gardener's Lodge to the overall design of Victoria Park. After a mid-life career as a public toilet and subject to vandalism the interior required a lot of new work but its original layout is still understandable and it is alive again.
NATURAL HERITAGE
This Category is specifically for projects that relate to the conservation of domestic or public gardens and Parklands including wilderness areas, coastlines and rural landscapes. Projects that deal with fauna, flora, geology and rock formations including rock art.
Winner: Water Research Laboratory, University of NSW, Office of Environment & Heritage – National Parks & Wildlife Service and NSW Fisheries.
Tomago Wetland Restoration Project, Kooragang Wetlands
A once vibrant wetland is returned to its former status, a fully functioning tidal wetland, getting world-wide attention. The research and learning from this project is being used in many other projects. The project involved a variety of disciplines and an examination of its history, flora and fauna, engineering and management. It is truly an innovative and inspiring collaborative project.
REGENERATION & NEW DEVELOPMENT
This Category is for projects that complement and promote existing heritage. Adaptive reuse, large scale regeneration projects and new developments which are sympathetic to the traditional uses of the site or structures involved and protect the heritage integrity.
Winner: Conybeare Morrison International & Wollongong City Council
North Beach Bathers Pavilion, Wollongong
This project was a long time in the planning and became embroiled with the woes of Wollongong Council. It is a delight to see it finally completed and great to see a building continuing to be used for the purpose for which it was originally designed.
Highly Commended: Hill Thalis Architecture + Urban Projects Pty Ltd
The Majestic
It is always sad to see a 'picture palace' close and it is not often that the Trust advocates for adaptation of a cinema, but The Majestic had ceased functioning as a cinema in 1979, serving as a roller-rink and a social club before it became derelict. This adaptation into commercial, retail and residential mixed use gives the building back its strength in the streetscape and respects the vitality of the original 'picture palace'. Nicely done.
RESEARCH & INVESTIGATION
Projects for this category may include archaeology, conservation management plans or historical research.
Joint Winner: Minister's Stonework Program –Government Architects Office
Repointing Mortar Sands & Sand Library
This initiative created much enthusiasm within the judging panel. It is a fabulous resource and reinforces the Government Architects Office as a centre of knowledge and education.
Joint Winner: Sydney Harbour Foreshore Authority
Chinese Garden of Friendship Horticultural Maintenance Plan, Darling Harbour
It is always amazing what we take for granted when a place is created. With the success of the Chinese Garden of Friendship, it became evident that the long term future of the gardens had indeed been taken for granted and a maintenance plan was needed.
This plan respects the national importance of the Garden of Friendship and the traditions of scale, proportion and relationships within a growing and changing landscape while providing a template for other bespoke places.
Highly Commended: For all four projects from Eurobodalla Shire
Tracing Events of the Dhurga Speaking people
Aboriginal Totems across Eurobodalla Shire
Invisible Places – Historic Aboriginal Reserves in the Eurobodalla Shire
Wallaga Lake Aboriginal Cemetery
Eurobodalla Shire is to be congratulated for the depth and scope of the work that tracks and reinstates Aboriginal Heritage. It was impossible to pick one project from Eurobodalla Shire over another. What is clear is that this Shire is doing invaluable work with Aboriginal heritage and is clearly intent on preserving and articulating its past and valuing its inhabitants.
Highly Commended: Connybeare Morrison International & OEH – NPWS
Hill End Conservation Management & Cultural Tourism Plan
Hill End is a much studied place and the judges' first reaction was 'not another Hill End Study,' but this plan brings together all that other work as well as the up to date examination of the place into a
comprehensive document which allows National Parks and Wildlife Service to continue its important work at this incredible site.
Highly Commended: Gondwana Consulting – for Shellharbour Wollongong & Kiama Councils
Aboriginal Cultural Heritage Management – Development Assessment Toolkit
This initiative created much enthusiasm within the judging panel. It is a fabulous resource and reinforces the Government Architects Office as a centre of knowledge and education.
EDUCATION INTERPRETATION AND COMMUNITY ENGAGEMENT
This Category is for Publications, Exhibitions, Displays or Site Interpretations which emphasis and promotes education, interpretation and community engagement.
Winner: New South Publishing, Powerhouse Museum and Faculty of the Built Environment (UNSW)
Designer Suburbs: Architects and Affordable Homes in Australia by Charles Pickett and Judith O'Callaghan
This book is a beautiful and compelling exploration of the relationship between architects and suburban living since 1900, giving perspective and understanding of the growth and development of our suburbs. It also makes us wonder why so few architects are involved today with homes in urban release areas and project home estates. It is a 'must read' and a 'must have' for your bookshelves.
Highly Commended: Sydney Water
Telling Sydney Water's Story
One of the challenges of an organisation with the longevity and continuing importance of Sydney Water is to maintain the significance of their past while still remaining up to date, safe, and supplying us all with high quality drinking water and waste water services.
Using images of former staff, board members and buildings etched into glass partitions, as well as other strategically placed panels and items of movable heritage, they have kept the 'ghosts' of the past an ever present part of the present.
The project is a constant reminder that the history lives on, that it is as much a part of the story as today.
Sydney Water is to be congratulated for its continuing emphasis on its history and heritage.
Highly Commended: Peter Freeman
The Wallpapered Manse
We've already seen a Highly Commended for the work to the former Presbyterian Manse at Moruya but the publication that augmented that work is also highly significant. It is gratifying to see that this research is quite firmly in the public arena. Too often this is not the case and Peter Freeman is to be congratulated for sharing the story of this building and the delights to be found within it.
Highly Commended: City of Canterbury Library Service
Canterbury Commons
This projects uses all the advantages of on-line participation and collaboration so that the local community can share their stories and engage in their own local history based on the well known 'wiki' model. This project spreads and shares knowledge, fostering pride and interest in the local area, something that other local libraries and history centres may wish to emulate.
Highly Commended: Maitland City Council
Bound for Wallis Plains, Maitland Convict Settlers
This publication is likewise designed to foster pride in a local community, focussing on the less well known stories of the convict settlers to Maitland. The work was largely funded by sales from previous books about Maitland's past thereby continuing the work into investigating and understanding the past and the legacies remaining in the physical fabric of Maitland, both above and below the ground.
TRADE SKILLS AWARD
This award is presented to a trades person or group demonstrating substantial achievement in conservation work on our built and natural heritage. The award recognises the practical skills required to carry out work specified by heritage architects, and it acknowledges the training, experience and judgement required to achieve excellent results in this demanding line of work.
Winner: Public Works NSW – Heritage Services
This award is for a team of people – 21 stonemasons, 8 roofers/ leadworkers, and 5 apprentices (3 masons, 1 plumber and 1 carpenter). Collectively this group is commonly referred to as 'The Stoneyard'. The stonemasonry team is lead by Paul Thurloe and Gary Rimmer and the roofers and plumbers by Lee Adamou.
The State Government stonework conservation program initiated by the 1988 Bi-Centennial led to a committed apprenticeship program to address the decline in skilled trades people for the important and complex work of conserving the great sandstone buildings of NSW. The team has learnt and grown and continues to learn, teach and grow with a huge number of important buildings and projects to their credit, such as the Australian Museum, Art Gallery of NSW, Sydney Hospital, NSW State Library, Singleton Courthouse and Sydney Observatory among others.
The team takes education of a wide group very seriously and give regular talks and workshops on a variety of topics. They have contributed to the understanding of the vagaries of Sydney sandstone, carving techniques, blacksmithing skills and conservation and repair techniques and proudly carry on the legacies of their forebears in Public Works such as George Proudman, after whom a stonemasonry fellowship is named, and AlfiePires, who taught and inspired so many.
This team also continues the once traditional employment of building and maintenance teams by public institutions, the decline of which has contributed to the decline in traditional craft skills across a wide range of trades.
CATHY DONNELLY MEMORIAL AWARD (OUTSTANDING FEMALE HERITAGE PROFESSIONAL)
This Award is presented to an individual female professional (an architect, engineer, conservator etc) for her outstanding contribution to the conservation of our built heritage. This category includes capital works and repair as well as landscape and adaptive re-use projects.
Winner: Letizia Coppo-Jones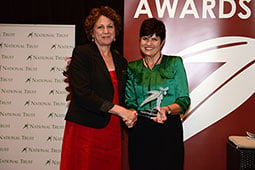 Letizia is a Senior Associate with Design 5 Architects, a firm she joined in 2001. As well as managing her own projects, she mentors staff on design, conservation practice and traditional construction as well as providing valuable input into the practice's projects.
She is known for her highly developed working knowledge of traditional materials and construction techniques which she gained by working closely with specialist contractors on a broad range of conservation and adaptive reuse projects. This informs both the theory and practice of her work which is built on a solid foundation of over thirty years professional experience.
Before joining Design 5 she worked for Clive Lucas Stapleton and Partners, was a director of Archimedia Pty Ltd, and worked with Fisher Hudson and Stephenson and Turner Architects. Letizia completed a Masters thesis in 1997 on the adaptive reuse and revitalisation of redundant industrial sites. Much of her work and study has focused on the interface between old and new, with a particular interest in industrial heritage.
She has worked on a number of prominent projects including, the restoration and adaptive reuse of the Treasury Buildings, Macquarie Street, Sydney (Hotel Intercontinental) and the Woolloomooloo Finger Wharf, the Trust Building, Sydney; the Woolley Building, University of Sydney; The Bondi Pavilion; The Sisters of the Good Samaritan Convent, Glebe (Toxteth); St George's Presbyterian Church of Eastern Australia, Castlereagh Street, Sydney; The Mercantile Hotel, The Rocks; The Ship Inn Hotel, Circular Quay; St James' Anglican Church, King Street, Sydney; alterations and contemporary additions to Victorian and Federation houses. She has also worked on the
Conservation Management Plan for the Closebourne House/St John's College site at Morpeth.
Letizia has been responsible for the design and project management of conservation and upgrading works for St James Church Sydney since 2002, and in 2011 won the 2011 National Trust award for Conservation Built Heritage for projects over $1m, as well as the AIA 2011 Greenway Award for the repair and conservation of the tower and spire and today a Highly Commended for Phase 2 of that project.
LIFETIME ACHEIVEMENT AWARD
The Lifetime Achievement Award may be presented to an individual whose body of work has furthered heritage conservation and its reach.
Winner: Joan Domicelj AM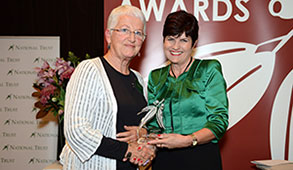 Joan Domicelj AM is an architect, planner, cross-cultural mediator and heritage adviser with degrees from Sydney and Edinburgh who has a long history of dedication to conservation and inspiring others with her thoughtful philosophical approach and her wit. She has interests in cultural landscapes, world heritage Indigenous issues and human rights, which she shared with her husband Serge, who died in 2003.
Both Joan and Serge shared a deep commitment to understanding both places and people which made them inspiring teachers and mentors to many in the conservation and heritage world.
Joan was a member of the National Trust Urban Conservation Committee from 1977-1980 and wrote the East Sydney/ Darlinghurst study for the Trust in 1976, as well as contributing to a number ofother publications and conferences over many years. Joan's husband Serge served on the Trust Council from 1975-79.
Joan has been an instrumental figure nationally and internationally in ICOMOS. She was ICOMOS Vice President, on the ICCROM Council and named in 2006 as one of '60 Women contributing to the 60 Years of UNESCO' and is an Honorary member of ICOMOS. During 2007 she acted as the World Heritage Director for ICOMOS and has worked in Europe, Asia and Latin America.
She has served on the State of Environment Advisory Council, the Australian Heritage Commission, the NSW Heritage Council, the Land and Environment Court and the Sydney Opera House, Conservation Council as well as being the Inaugural chair of the Australian World Heritage Advisory Committee.
Joan received an AM in 1999 for 'national and international service to the conservation of crosscultural heritage'; she holds a Bicentennial Medal and the RAIA's Marion Mahoney Griffin award.
Everyone in this room is indebted to her vision and insight. Her contribution to the heritage field in Australia and worldwide has been enormous and her approach of calm gentle negotiation and quiet discussion is inspiring.