15 Nov 2012
US Secretary of State Hillary Clinton visited Curtin Family Home on Wednesday 14 November as part of her Western Australian tour. Unprecedented security surrounded the arrival of the high profile guest who was accompanied by Australian Defence Minister Stephen Smith, Australian Ambassador to the United States Kim Beazley
US Secretary of State Hillary Clinton took time to visit Curtin Family Home as part of her Western Australian tour
US Secretary of State Hillary Clinton visited Curtin Family Home on Wednesday 14 November as part of her Western Australian tour.
Unprecedented security surrounded the arrival of the high profile guest who was accompanied by Australian Defence Minister Stephen Smith, Australian Ambassador to the United States Kim Beazley and US Ambassador to Australia Jeffrey Bleich.
Jarrad St Cottesloe was blocked off by police as an entourage of more than 30 cars arrived at the former home to Australian Wartime Prime Minister John Curtin, his wife Elsie and their two children.
Mrs Clinton toured the 24 Jarrad St address for about 30 minutes. She was met by National Trust Chair John Cowdell, President Max Kay and Conservation Architect Kelly Rippingale.
Curtin family Home as been in the care of the National Trust since 2002.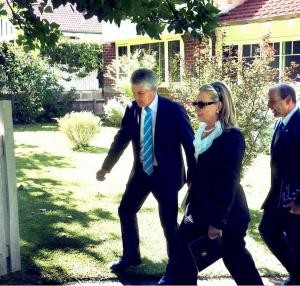 Photograph: L-R Australian Defence Minister Stephen Smith, US Secretary of State Hillary Clinton and US Ambassador to Australia Jeffrey Bleich during their visit to Curtin Family Home in Cottesloe. G Pickering