13 Oct 2014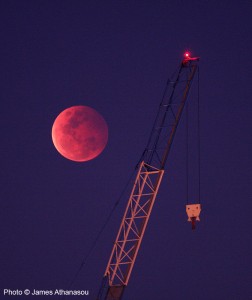 All eyes were skyward at the Old Perth Observatory, home to the National Trust of Australia(WA) on Wednesday 8 October. The full moon eclipse provided a spectacle in the eastern sky for approximately an hour. The moon rose at 6.19 pm and about a hundred visitors enjoyed privileged views of the spectacle thanks to the generosity of Star Gazers WA, who brought seven substantial telescopes for the occasion.
Highly skilled astro photographers were also on site, providing startling images of the 'blood moon' and The Old Observatory during the eclipse. Access to the elegant 1896 building which is foundational to the history of astronomy and meteorology in Western Australia provided a rare treat for visitors.
The Old Perth Observatory has played a significant international role in cataloguing the stars. Halley's Comet was viewed from here in 1910 and the introduction of correct time and time keeping in Perth is linked to its early operations. Significant people associated with Old Perth Observatory include the first Government Astronomer, William Ernest Cooke, Government Architect George Temple-Poole who designed the building, and WA's first Premier, Sir John Forrest. The former Government Astronomer's residence and place of work has been the headquarters for the National Trust since 1986.
Total Lunar Eclipse 8th October 2014, National Trust of Australia (Western Australia)