22 Mar 2023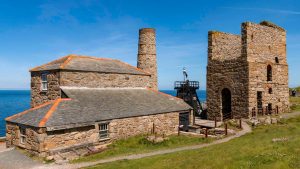 Levant Mine in Cornwall is one of the key Cornish mining sites in the world heritage listing. It houses a rare beam engine which was brought back to working order by National Trust volunteers.
The National Trust of South Australia and West Cornwall have commenced a new partnership and exchange program, aimed at connecting the cultural and technological history of Cornish mining and its preservation and presentation today as a  globally significant heritage story. The aim is to build connections and share expertise across the world in designing visitor experiences at former mining sites, conserving built heritage and preserving and celebrating Cornish culture. The ultimate goal is to elevate the significance of Cornish mining sites globally and to establish them as some of the world's most important industrial heritage sites.
The exchange program is supported by the International National Trusts Organisation (INTO) which promotes collaboration between National Trust organisations around the world. The first exchange happens this month, with a visit to Cornwall by National Trust of South Australia project officer James Guy to Cornish mining sites included in the world heritage listing. This will be followed by a return visit to Moonta and the Copper Coast by the National Trust's General Manager for West Cornwall in May during the Kernewek Lowender Cornish Festival.
The partnership between National Trust Cornish mining sites in the UK and Australia is not only significant for the cultural exchange and enhanced visitor experiences it will create, but also for the potential economic benefits for both regions. By strengthening collaboration between the two National Trusts, this project will pave the way for valuable learning experiences for both organisations and establish a platform for ongoing cultural exchange and economic development. It will support the proposed nomination of Australian Cornish Mining Sites at Moonta and Burra for world heritage recognition.