28 Jul 2023
A group of enthusiastic gardeners descended upon Collingrove on July 8th and 9th to start tackling the overgrown garden and help to restore its beauty as part of the NTSA's plan to breathe new life into this important South Australian property and open the house and gardens for future events.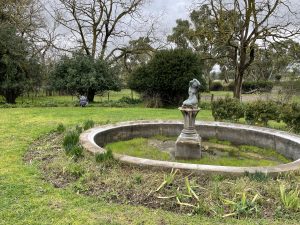 The volunteer gardeners removed copious quantities of weeds, revealing extensive beds of bulbs (irises and daffodils) which will be a stunning massed display of colour in spring – well worth a visit!!
Trimming back dead wood cleared the view across the garden beds to the paddocks beyond, and a planned hedge trim plus new signs will certainly rejuvenate Collingrove's appearance.
Various NTSA councillors, partners, staff, NTSA gardeners and Barossa Valley residents all pitched in with vigour for a satisfying weekend's work and very enjoyable time spent together.
Many thanks go to:
Millie and Frank Nicholls
Elaine Davies
Alison and Bruce Stillwell
Lillian Brown
Merilyn Kuchel
Alex McCall
Ann Johnson
Chris Hughes
Trish Hayes
Helen Roberts
Jane Clarke
Tony Austin.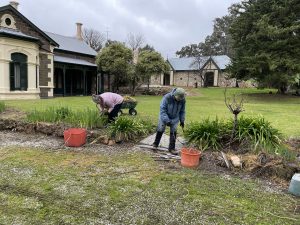 If you'd like to join the crew, upcoming working bee dates:
Wednesday 16th August 9am-4pm
Sunday 20th August 9am-4pm
Sunday 24th September 9am-4pm
Wednesday 27th September 9am-4pm
RSVP to Lillian Brown at 0408 081 124
Written By: Alison Stillwell