25 Aug 2023
The Clare National Trust Museum, which is housed in the Old Police Station and Court House in Clare, was fortunate this month to host a practical 2-day workshop on Disaster Resilience.
The History Trust of South Australia had obtained a substantial grant through the South Australia Fire and Emergency Services Commission (SAFCOM) to trial disaster resilience planning with four community museums, and the Clare Branch of the National Trust was offered the opportunity to hold one of these planning workshops. The workshop was facilitated by experts in collections management and salvage techniques, Anne Dineen and Heather Brown from Artlab Australia and Amanda James and Tony Kanellos from the History Trust.
To ensure a workshop was viable we invited colleagues from other local National Trust branches and also local History groups. We had participants from the branches at both Auburn and Burra, and the Brinkworth History Group, as well as representatives from the Clare Branch.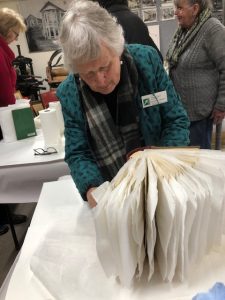 On the first day, we discussed what exacty is a collections disaster, the importance of planning, and the stages of disaster management.  Group activities included identifying, assessing and prioritising risks in the Clare Museum and determining significance of items and salvage priorities.
The establishment of a Disaster Response Team including key roles was covered and then groups considered different disaster scenarios and prepared an appropriate Disaster Response Plan.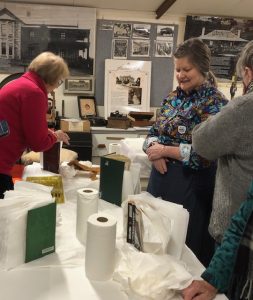 The second day focused on how to plan and conduct your recovery. This highlighted the importance of including your digital collections such as a collections data bases, photographs, audio records etc.  We extensively worked through how to prioritise which items to salvage first. Comprehensive documents provided detailed timelines for different types of materials such as paper, textiles, wood etc. and the appropriate methods to use in recovery.
We then had a hands-on session rescuing objects that had been soaked in a water bath overnight. Each participant had the opportunity to salvage a book and were taken through the process step by step – very messy but also very instructive on how time consuming salvage can be.
It was a really useful and interesting workshop and we are all very grateful to Artlab and the History Trust for giving us the opportunity to hold this workshop and for making us aware of how important it is to be prepared for the disasters we hope will never happen!
Written by: Millie Nicholls