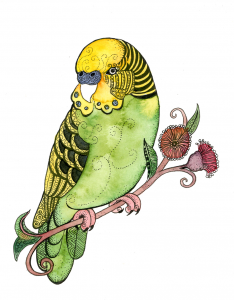 Join local artist Zinia King every Thursday morning for a lovely cup of tea and an exceptional session of watercolour painting at Stangate House.
Over a period of 6 weeks, students will dive deep into the wonders of watercolour and pen drawing techniques.
Inspired by the wildlife in the beautiful gardens of Stangate House, students will work towards creating a large artwork of an animal of their choice.
This course is suitable for beginners and for those who wish to explore a new technique. Expect to be challenged, but also amazed at what you can achieve.
All materials and endless cups of tea in fine china will be provided. Just bring yourself and a big smile!
Dates for six week, six class course: August 4, 11, 18, & 25, September 1 & 8
Timings: 10am –  12pm
Cost: $240 six week bundle (GENERAL), $210 six week bundle (NT MEMBER), $45 casual class (GENERAL), $40 casual class (NT MEMBER)
Location: Stangate House, 3 Edgeware Road, Aldgate SA 1554
Bookings: https://bit.ly/winterart6
To book the full 6 week course:
Select a ticket for each session. After selecting each ticket, click 'next', followed by 'buy more tickets' in the cart options. Continue adding sessions till you have all 6 classes selected. In order to get the correct price, enter the code 6WKBUNDLE  at checkout. Please note that booking fees apply.
To book an individual class:
Select the desired date and time and proceed to checkout.
Contact Details: bookings@nationaltrustsa.org.au