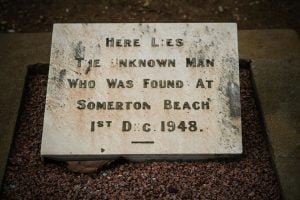 On the 1st of December, 1948, an unidentified man's lifeless body was discovered on Somerton Beach, igniting worldwide curiosity during the early days of the Cold War.
Now, more than 70 years down the line, the enigmatic 'Somerton Man' continues to stand as one of the region's most persistent enigmas. Take journey back in time to retrace his last steps and delve into the hints that stirred imaginations across the globe.
To ensure your spot, be sure to make your booking, as this experience is not to be missed.
Please note these walking tours may include uneven ground. Sensible footwear and weather appropriate clothing are recommended.
Duration:
Approx. 90-minutes
Starting Point:
Across the road from Ayers House, 288 North Terrace, Adelaide
Outside Lot Fourteen
Cancellation & Refund Policy:
Full refund (minus booking fee) up to 7 days before event date.
Half refund (minus booking fee) up to 48 hours prior to event date.
No refund issued 48 hours before event.
Should the tour be cancelled/rescheduled by the organiser, a choice of refund or new tour date will be offered.
​