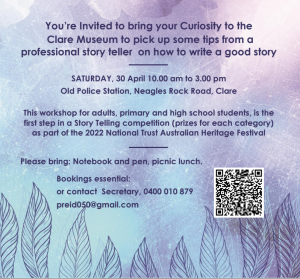 Helen Lawry, a professional story teller and School and Family Programs Organiser for the National Trust South Australia will facilitate a combined workshop for adults and children on Saturday 30th April at the Clare Museum 10.00 am 3.00 pm.
BYO Picnic lunch, Tea and Coffee will be provided.

Bookings essential via the Secretary Pauline Reid on 0400 010 879 or to preid050@gmail.com as numbers will be capped.

The workshop is free of charge.
This workshop will provide those interested in entering the competition with some practical guidance on the art of telling a good story. For more information on the competition please click here. 
Following the workshop Museum volunteers will provide some historical background information on Clare and the Museum building.
There will be time for participants to explore the museum looking for inspiration.
*The Museum is open on Saturday afternoons from 1.00 pm to 3.00 pm and on Sundays from 10.00 am to 3.00 pm for repeat visits or by appointment.