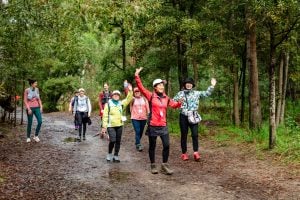 Welcome to the National Trust of South Australia's exciting new venture – our exclusive walking membership! As a not-for-profit deeply committed to preserving the rich history and natural beauty of South Australia, we are thrilled to introduce this unique opportunity for you to engage with our state's heritage in a truly immersive way.
The walk will kick off at the picturesque Stangate House & Gardens. From this starting point, you'll set out on a scenic route leading to the serene Woorabinda Bushland Reserve. Here, you'll enjoy a leisurely stroll around the tranquil lake, immersing yourself in the natural beauty that surrounds you. As the walk comes full circle, you'll return to the charming Stangate House & Gardens, where a festive atmosphere awaits to welcome you back.
This event will feature Oranaise for their delicious paella. Additionally, you can indulge in freshly brewed coffee and a range of both non-alcoholic and alcoholic beverages, all readily available throughout the day.
Don't miss out on this chance to immerse yourself in the past while embracing the beauty of nature. Step into history and discover South Australia on foot with us! #DiscoverSAonFoot
Stangate House & Garden Parking:
Disabled parking will only be accepted within the grounds on the day.
There is some verge parking outside the gates, and guests can park after business hours at Thomas Gas.
There is off road car parks along Euston Road, bus side and across from The Hut Community Centre.
There are car parks at The Hut Community Centre.
A car park is also found at the Aldgate Shopping Centre, along Mount Barker Road.
Public Transport:
Bus: 864F
Bus stop: 42 Mt. Barker Road
Walk: 450 meters (7 minute) walk from stop 42 to the Stangate House entrance on Edgeware Road.